Orchestra prepares to bring the sounds of the silver screen to life | Archives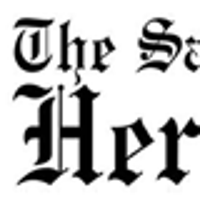 With the love of music in their hearts and their musical instruments in their hands, the members of the Lee County Community Orchestra are busy preparing for their next concert.
Leaving the classical route, the upcoming concert, titled Sounds of the Silver Screen, has the orchestra performing movie soundtracks. The use of full orchestras to create movie soundtracks was popular from the 1930s through the 1950s. The orchestra will take a trip back to Hollywood's Golden Age to explore music from the origins of orchestrated film.
The event will take place at 7:30 p.m. on March 12 and 3 p.m. on March 13 inside the Harper Center, First Presbyterian Church, 203 Hawkins Ave.
The orchestra is conducted by Vincent Povázsay.
Church pastor Brad Simpson, who plays tuba in the orchestra, has only been involved for about three years but has enjoyed their performances, past and future. This is their second performance since COVID-19.
The orchestra, for me, is one of the best occasions to come together to celebrate music," he said. "This concert is going to be a great opportunity to discover great music."
He said there was plenty of room and the area where the performance would take place had good acoustics.
Wanda Wazeneger, 74, plays cello for the orchestra and has been doing so for about a year.
I just like to play," she said. "It keeps my mind sharp. People come everywhere to be part of it. My husband has been part of it for 34 years.
Her husband, Don, 77, used to play trombone in high school and put it down for a while, then pick it up again when he joined the orchestra.
"I just liked doing it (playing) and I did pretty well on a non-professional level," he said.
Besides performing, the other thing he loves about being in the orchestra is the opportunity to make friends. He says he has forged excellent relationships with other musicians in the orchestra.
"Our music is pretty good in my opinion," he said. "We get good attendance at our concerts. We do it because we love to play.
The event is free to the public. For more information, email the orchestra at lccorch@gmail.com