Revisit: American Classical Orchestra Presents "The Chaconne Project" at Harlem Parish
Revisit: American Classical Orchestra (ACO) returns to Harlem Parish The Chaconne project led by COA Founder Thomas Crawford on Wednesday, June 22 at 7 p.m.
The production features a chamber ensemble made up of members of the orchestra and Mexican mezzo-soprano Guadalupe Peraza in a lively program of baroque repertoire featuring the chaconne, a musical genre that began as paillard 16anddances of the last century in Spanish culture. The chamber concert was originally scheduled for February 3, but was postponed due to the Omicron variant.
The American Classical Orchestra was founded in 1984 as the Old Fairfield Academy Orchestra. Later renamed American Classical Orchestra in 1999. After some time, founder Thomas Crawford established his new permanent residence in New York in 2005. Because they only play music from the 17th, 18th and 19th centuries, their mission is to present music as composers might have heard it in their time. Using certain instruments and techniques, the American Classical Orchestra are "extremely skilled musicians" (theater scene) have received critical acclaim for their recordings, educational programs and concerts.
Thomas Crawford is highly skilled in the historically accurate performance styles of Baroque, Classical and Romantic music. Throughout his life, he founded two Connecticut orchestras: the Fairfield Orchestra and the Orchestra of the Old Fairfield Academy. A passionate activist determined to bring the beauty of period music to a wider audience, Mr. Crawford's educational activities with the Orchestra have received a National Endowment Learning in the Arts for Children and Youth Award. for the Arts, recognizing the dynamism of the New York City Schoolchildren COA. A native of Pennsylvania, he holds degrees in organ performance and composition from the Eastman School of Music and Columbia University.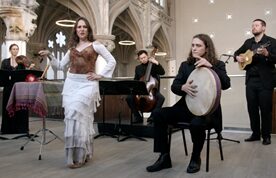 The show, Revisit: The Chaconne project, was filmed at Harlem Parish. The use of harmonies creates 10 vibrant examples of chaconne, a genre of music classified by its repetitive bass line. Director, Thomas Crawford, guides the audience through an aroma of musical instruments compromised by strings, vocals and percussion. Revisit will feature Guadalupe Peraza, who has appeared as a featured soloist with the New York Virtuoso Singers and at the majestic Teatro de la Ciudad Esperanza Iris in Mexico City.
Tickets, priced at $35 and $55, are available at aconyc.org or by calling American Classical Orchestra at (212) 362-2727. Ticket holders will need to follow venue guidelines and show proof of full COVID-19 vaccination to enter the building. The show will begin Wednesday, June 22 at 7 p.m., Harlem Parish, 258 W 118th St.