Southern Symphony Orchestra concert has a 'local flavor' to music | Lifestyles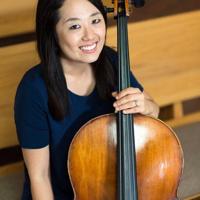 There will be two highlights at this Friday's Southern Symphony Orchestra concert at Thomas Jefferson Independent Day School in Joplin.
First, guest cellist Dr Hyerim Jeon Mapp will perform Sir Edward Elgar's much admired "Cello Concerto in E minor" during the performance.
"It is vitally important for all of our musicians, but especially for students, to hear and interact with an artist like Dr. Mapp," said Dr. Jeff Macomber, who conducts the orchestra, "and to interpret such an important and coveted work. . it's informative and inspiring.
Mapp holds a doctorate in musical arts in cello performance from the University of Kansas, according to a statement. She teaches music at New Mexico State University and is a cellist for the Las Cruces, El Paso, Roswell, and Camerata Del Sol Symphony Orchestras.
Second, a musical piece very dear to Macomber's heart will be performed in the third act of the concert. Macomber wrote a nine-minute piece called "Burlesca". It is the third in a series of orchestral pieces that he composes and the first such piece that he chooses to play at a concert.
"I am grateful to the members of the Southern Symphony Orchestra for their willingness to create this work," he said. "It's a garish piece of about nine minutes. As the title suggests, it carries a humorous intent, although the beginning and end have some rather dark and mysterious qualities. The piece begins with a slowly building up sonority that is strident, followed by moments of calm reflection. "This duality continues until the rather crude and humorous mid-section replaces the reflective parts, which come back at the end. I hope the piece will be well received and may lead to further attempts.
"Two Pieces" from the soundtrack to "Henry the V", with music by Sir William Walton; and "Polovetsian Dances" from the opera "Prince Igor" by Alexander Borodin, will also be performed.
The Southern Symphony Orchestra is made up of musicians from southern Missouri and communities across the region.
"We have orchestral enthusiasts from all walks of life who choose to be part of our 'family' of local musicians," Macomber said. "Many are MSSU students, some are teachers, some are high school students, some are in retail, some are retired, (and) some are in other professions like doctors and lawyers. . We all share a love for making music in an orchestral context.
Master Class: Mapp will present a special cello master class at 4 p.m. Thursday in Room 208 of the Fine Arts Building (Music Department) at MSSU. High school and college students in the region are invited to attend, play and receive feedback.
Details: The concert begins at 7:30 p.m. in the concert hall of the Thomas Jefferson Independent Day School. Free entry.