The symphony orchestra concert will feature the winner of the British concerto competition, the music of Nielson, Mahler and a British student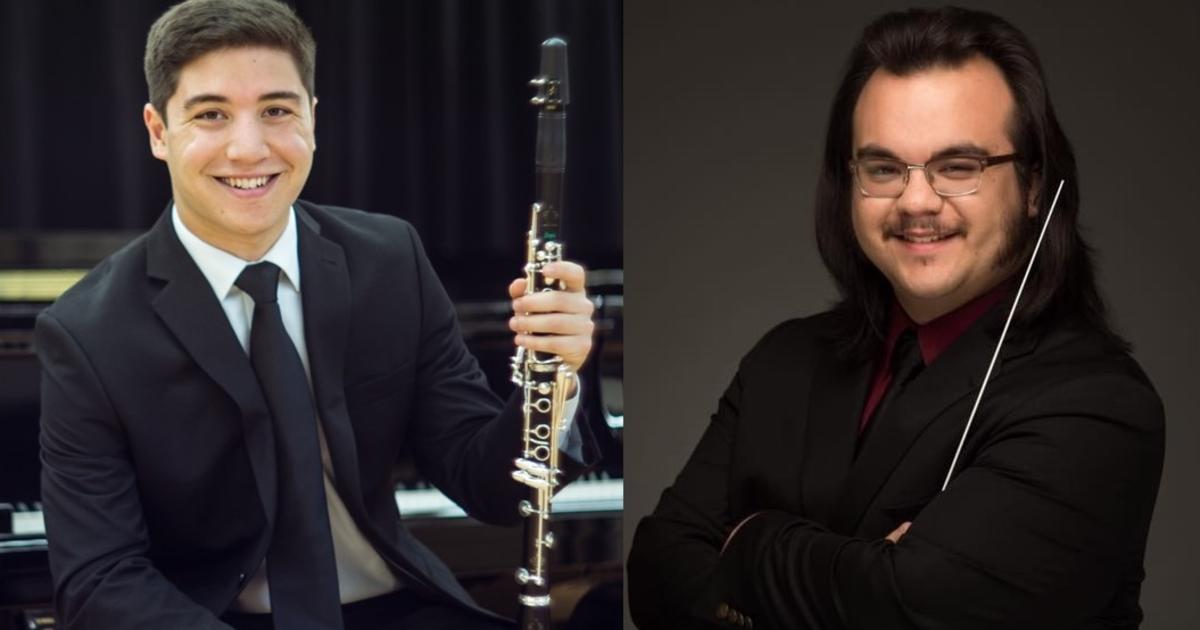 LEXINGTON, Ky. (February 14, 2017) – The critically acclaimed University of Kentucky Symphony Orchestra, conducted by Maestro John Nardolillo, will next perform with concerto competition winner Michael Robinson, a junior at the UK School of Music. The concert will feature music by famous composers Carl Nielson and Gustav Mahler, as well as a premiere of a work by British junior Logan Blackman. The concert will begin at 7:30 p.m. on Friday, February 17 at the Singletary Center for the Arts.
The British Symphony Orchestra's February concert will feature Robinson accompanied by the British Symphony Orchestra on the Clarinet Concerto Op. 57. The orchestra will also perform Gustav Mahler's First Symphony and Logan Blackman's "Prayer of a Broken Heart".
Robinson was selected to perform with the orchestra by winning this year's UK Symphony Orchestra Concerto Competition. The competition presents a prestigious opportunity for UK music students to perform a solo concerto with the orchestra. Artistic excellence is the main criterion, but students must also be full-time music majors and prepare the entire concerto. A panel of judges made up of artists from outside the UK review the excerpts performed by each contestant and select the top four to return and play their entire concerto. Among these finalists, one to three laureates are chosen to perform with the orchestra as part of the Concerto Competition Concert.
A native of Lexington, clarinetist Michael Robinson pursued studies in music education and musical performance. A student of Associate Professor Scott Wright, Robinson performs as principal clarinetist with the United Kingdom Symphony and Wind Orchestra, and for British Opera productions. In addition, he was Drum Major for the Wildcat Marching Band. An avid clarinet and saxophone performer, Robinson has appeared with the Lexington Theater Company, Blackman Wind Symphony, Bluegrass Area Jazz Ambassadors and several other ensembles in the UK including the Jazz Ensemble, Lab Band, Mega Sax, UK Philharmonia and several groups. of room. .
As well as showcasing Robinson's talents on the clarinet, the British Symphony Orchestra concert will also celebrate the work of Logan Blackman, which he will personally conduct.
Blackman's 'Prayer from a Broken Heart', a symphonic poem, was originally written for a wind ensemble in 2012 after the composer's parents died suddenly in October 2011. "It was my reaction to their deaths. describing what I had been through and what my future had to hold in store, "said Blackman.
Passionate about composition, Blackman finds writing his own work very rewarding. "After writing the last note, I like to look at the work as a whole and admire what I have created. For me, that's one of the greatest feelings in the world! "
Blackman, who has chosen the UK for his Lexington-based studies and the school's orchestra and faculty, is thrilled with the opportunity to share his music with a Bluegrass audience at the Orchestra's upcoming concert. British symphonic. "It is the greatest honor of my life so far. It is an honor to create a work with such a distinguished ensemble, but it is an even greater honor to bring it to life with my friends and colleagues. I am very grateful for this incredible opportunity. "
Raised in Paducah, Ky., Blackman began his career as a conductor at the age of 14 and his career as a songwriter at the age of 12. Blackman has served as guest conductor of the Murray State Wind Ensemble, the Lone Oak High School Band, and the West Kentucky Woodwind Choir. At the age of 17, Blackman founded his own Blackman Wind Symphony in Paducah. A former student of the Governor's School for the Arts at Kentucky Center and Commonwealth Middle College, Blackman took organ and piano lessons before discovering his love for the bassoon.
Currently a junior in musical performance in the UK, Blackman studied conducting with Lucia Marin and Daniel Chetel, composition with Mike D'Ambrosio at Murray State University, bassoon with Professor Scott Erickson at Murray State University , the organ with Bobbie Sue Chumbler from Paducah and the piano with Malissa Heath from Paducah. At the UK School of Music he is currently studying conducting with Nardollilo, composition with Prof. Joseph Baber and bassoon with Prof. Peter Simpson.
To hear Robinson, Blackman and Maestro Nardolillo talk about the upcoming concert, visit WUKY's "UK Perspectives" interview here: http://wuky.org/post/uk-symphony-orchestra-brings-tragedy-and-triumph- stage # stream / 0.
Founded in 1918 and comprised of undergraduate and graduate musicians from the United States, Asia, South America and Europe, the UK Symphony Orchestra has long been one of the most important musical ensembles in the university. This year, the ensemble continues that tradition with performances of some of the greatest works in the orchestral repertoire, alongside contemporary works that push the boundaries of orchestral music. The concerts will feature music by Ludwig van Beethoven, Pyotr Ilich Tchaikovsky and George Gershwin, as well as modern composer John Adams. The orchestra is also continuing its partnership with the UK Opera Theater, then performing in the production of the program "The Barber of Seville".
John Nardolillo has performed with over 30 of the nation's greatest orchestras, including the Boston Pops, National Symphony, and major orchestras in Seattle, San Francisco, Detroit, Atlanta, Dallas, Milwaukee, Utah, Columbus, Indianapolis, Oregon , Fort Worth. , Buffalo, Alabama, Louisville, Missouri, North Carolina, Toledo, Vermont, Columbus, Omaha and Hawaii. He has also recently conducted concerts at the Kennedy Center in Washington, DC; the Kimmel Center in Philadelphia; and Carnegie Hall in New York. Nardolillo made his professional debut as a conductor in 1994 at the Sully Festival in France, and has since made appearances in conducting in the United States, France, Germany, Italy, Norway, in Sweden, Denmark and China. He has conducted major American orchestras in subscription concert series, summer and pop music concerts, educational concerts and tours, as well as on television and radio shows. In 2004, Nardolillo joined the faculty of the UK School of Music, where he is currently conductor.
The UK Symphony Orchestra concert doors open at 7:00 p.m. on Friday, February 17, with music starting at 7:30 p.m. Tickets are $ 10 for general admission, $ 5 for students, and free for students. UK students with valid ID before the day of the show (only to be purchased in person at the Singletary Center ticket office). A processing fee will be applied to tickets at the end of the transaction. Tickets are available at the Singletary Center box office online at www.scfatickets.com, by phone at 859-257-4929 or in person on site.
UK Symphony Orchestra is part of the UK School of Music, UK College of Fine Arts. The school has earned a nationwide reputation for high-level education in opera, choral and instrumental music, as well as music education, composition, theory and history of music.