A concert by the British Orchestra will present "Death and Transfiguration" by Richard Strauss, winners of the Concerto Competition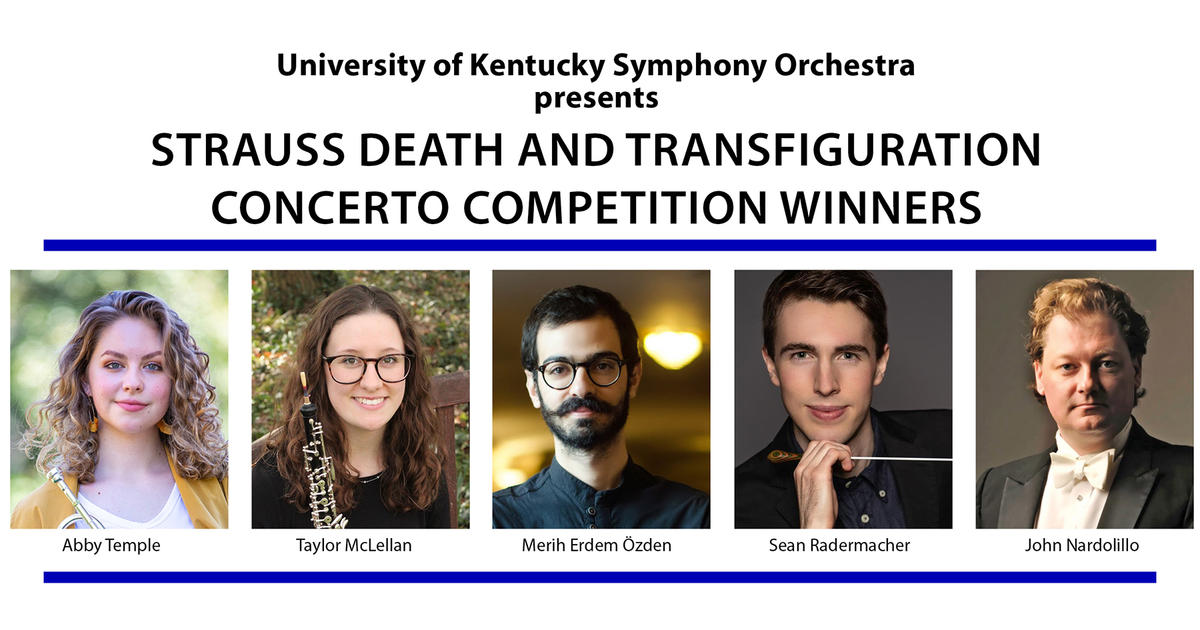 LEXINGTON, Kentucky (October 26, 2022) —​ To be continued for The University of Kentucky Symphony Orchestra will be Richard Strauss programmatic symphonic poem, "Death and Transfiguration", at 7:30 p.m. on Friday, October 28 at the Singletary Center for the Arts' Concert Hall. Also on the program will be "Psyche and Eros", Jean Francaix'"The clock of Flora (The Flower Clock)" and Joseph Haydn's Trumpet Concerto.
Join Maestro John Nardolillo for the conduct of duties will be doctoral students Sean Radermacher, AMD '23, and Merih Erdem ÖzdenDMA '23, as well as feature UK soloists and alumni Taylor McLellan, DMA' 23, oboe, and laureate of the Concerto Competition, Abby Temple, BM' 20, on trumpet.
"Every year the UKSO organizes a concerto competition for its students," says Temple. "Taylor and I both won in 2020, with Madison Jones getting to play her concerto last season. Due to COVID, our March 2020 concert has been cancelled, so we finally have the chance to perform these solos in front of an audience after two and a half years!
Tickets for UK Symphony Orchestra concerts are $10 for general admission, $4 for students and free for UK students with valid ID before the day of the performance (at the Singletary Center box office) . Tickets are available through the Singletary Center box office online at www.scfickets.com, by phone at 859-257-4929, or in person on site. Children 6 years and older are welcome.
Founded in 1918, the UKSO is a 100-member all-student orchestra, presenting classical, chamber, opera and educational concerts. The group is made up of undergraduate and graduate students from the United States, Asia, South America, Africa, and Europe. The orchestra has performed regularly with world-renowned concert artists, including Itzhak Perlman, Lang Lang, Sarah Chang, Gil Shaham, Lynn Harrell, Marvin Hamlisch, Denyce Graves, Christine Brewer, Pink Martini, Ronan Tynan, Mark O'Connor, Wynonna Judd, Keith Lockhart and Arlo Guthrie.
The British orchestra has performed at Carnegie Hall in New York and the Kennedy Center in Washington, D.C., regularly tours the state of Kentucky, and has toured China, performing at major concert halls from Shanghai, Tianjin, Hangzhou, Yangzhou and Beijing. The orchestra's performance at the National Center for the Performing Arts in Beijing was broadcast on China Central Television, a network that reaches more than 1.5 billion viewers. In the fall of 2010, the orchestra performed for the opening ceremonies of the World Equestrian Games, a spectacle which featured more than 1,500 performers and 200 horses and was seen live on NBC in the United States by 39 million people and by approximately 500 million additional viewers worldwide.
Nardolillo has performed with over 30 of the nation's greatest orchestras, including the Boston Pops, National Symphony, and major orchestras in Seattle, San Francisco, Detroit, Atlanta, Dallas, Milwaukee, Utah, Columbus, Indianapolis, Oregon, Fort Worth, Buffalo, Alabama, Louisville, Missouri, North Carolina, Toledo, Vermont, Columbus, Omaha and Hawaii. He has also recently conducted concerts at the Kennedy Center in Washington, DC; the Kimmel Center in Philadelphia; and Carnegie Hall in New York. Nardolillo made his debut as a professional conductor in 1994 at the Sully Festival in France and has since made appearances as a conductor in the United States, France, Germany, Italy, Norway , Sweden, Denmark, Austria, the Czech Republic and China. He has conducted major American orchestras in subscription concert series, summer and pop concerts, educational concerts and tours, as well as television and radio broadcasts. Nardolillo is the artistic director of the Prague Summer Nights Music Festival, and in 2004 he joined the faculty of the UK School of Music, where he is a conductor of orchestras.
The UK Symphony Orchestra is housed at the School of Music at the UK College of Fine Arts. The UK School of Music has achieved a national reputation for its high caliber teaching in the fields of opera, choral and instrumental music, as well as music education, music therapy, composition, theory and music history.