Angel's Bone, an improbable opera on human trafficking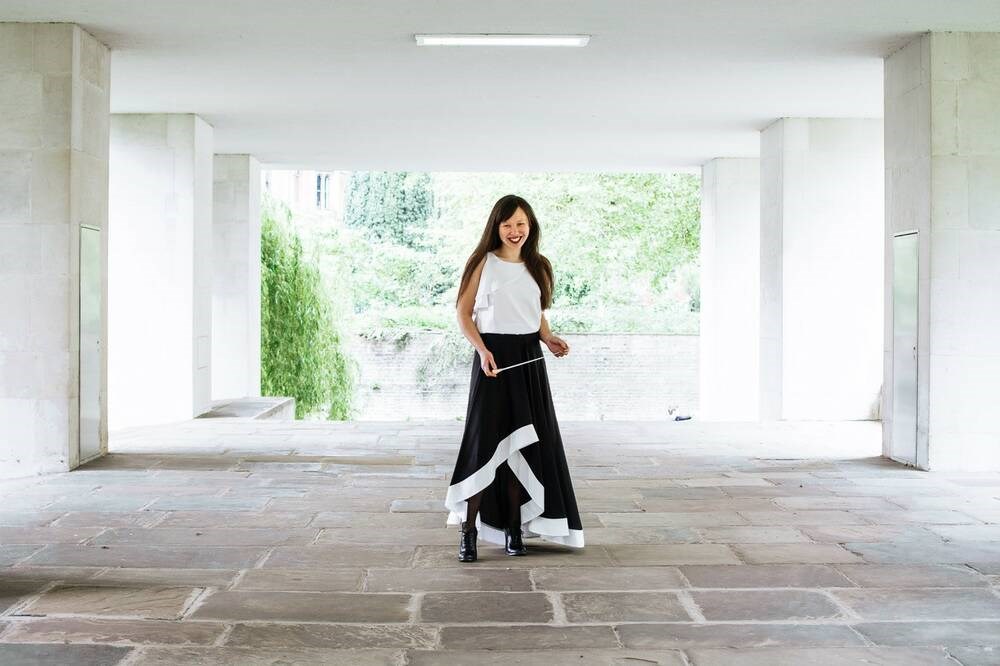 The latest upcoming work from conductor Naomi Woo, who grew up in North Vancouver, is a production that focuses on human trafficking.
The latest work to join the repertoire of Naomi Woo, conductor, pianist and musicologist born in North Vancouver, is a baptism of fire on all fronts.
A storyline designed to generate conversation and awareness about sexual exploitation and human trafficking, Pulitzer Prize winner angel bone navigates the story of two children who seek security and stability, but are instead lured and trapped by traffickers, Mr. and Mrs. XE.
It's a bold work by Chinese-American composer Du Yun and Canadian librettist Royce Vavrek that's been reworked by Re:Naissance Opera – a work that Woo, despite his ever-expanding range, is unlike anything on what she worked before.
"It's a really unusual opera, and I've certainly never been involved in anything where the collaboration is so extensive," said the Deep Cove-raised musician, who now lives and works in Winnipeg as co-conductor of the Winnipeg Symphony Orchestra. .
Part of the preparation involved convening what Woo calls a "social context committee", a meeting led by Brenda Lockhead, a lawyer and advocate for victims of human trafficking, and Terrie Harris, herself a victim of human trafficking. treats, to discuss the text of the opera and think critically and carefully about how it should be presented on stage. Reunions, which Woo has only been in for the past few months, have been a major part of the production for more than 18 months.
"We are coming together to discuss how this can be presented in a way that is honest about the experiences of victims and in a way that genuinely raises awareness without sensationalising an issue that affects real people and real people. lives."
The burning piece might be a work of fiction – a fantasy subgenre even, with the children being fallen angels whose wings have been clipped by the traitorous Mr. and Mrs. XE – but the tale is one that taps into hundreds of true tales. heartbreaking.
So how do you approach such a sensitive subject, deliver a piece that makes you think without shocking, and understand without being omniscient? "Honestly," Woo says, "making mistakes along the way."
The conductor and musical director, who was named in CBC's "Top 30 Classical Musicians under 30" in 2019, says she's sure the cast and crew "won't be perfect," but with aides like Lockhead and Harris at his helm, the final production must provide the correct amount of outreach and education.
Prior to each performance, a half-hour discussion will highlight a different theme addressed in the play, whether it be the lasting effects of trafficking and exploitation, or their root causes. Then there will be plenty of support available for those who need it.
Still, Woo emphasizes that she doesn't want audiences to leave the theater feeling disturbed or discouraged. On the contrary, she hopes that they will emerge affected but empowered, feeling that they too can be advocates for social change.
"What we don't want is people walking away thinking, 'Wow, it's really sad that this is happening, but it's not related to me, it doesn't affect me and I don't don't know what I can do,'" she explains.
"We want the crowd to feel like they can stand up for the young people in our communities."
For the uninitiated in theatre, the prospect of sitting down for an opera, especially one with oppressive themes, is daunting. If you don't know your baritone from your horns, and the soprano sounds more like a New Jersey mob boss than a singer, will the production be tolerable?
"One thing about Du Yun's songwriting is that she writes in a wide variety of musical styles," Woo assures. "A lot of this music incorporates electronics, and a lot of it will sound familiar to genres far removed from opera."
Woo says the directors have worked hard to situate the show in the contemporary moment: there are video games being played on stage. There are characters seen texting on stage. It's not 19th century ballgowns and corsets and an endless belted song in Italian.
"A lot of what's happening will feel contemporary and present, and familiar," she says. "It's surprisingly modern, and it makes the show so much more accessible, and it emphasizes that the show is trying to tell a story about what's really going on in our world today."
The production will premiere on Friday as part of IndieFest, an 11-day festival dedicated to gender-defying arts, and will run for three days. Tickets can be purchased through the Re:Birth Opera website.
Mina Kerr-Lazenby is the Indigenous and Civic Affairs reporter for North Shore News. This rhythm of reporting is made possible by the Local Journalism Initiative.
MKerrLazenby@nsnews.com

twitter.com/MinaKerrLazenby