Boothbay Harbor Opera House: Sons of Serendip Holiday Concert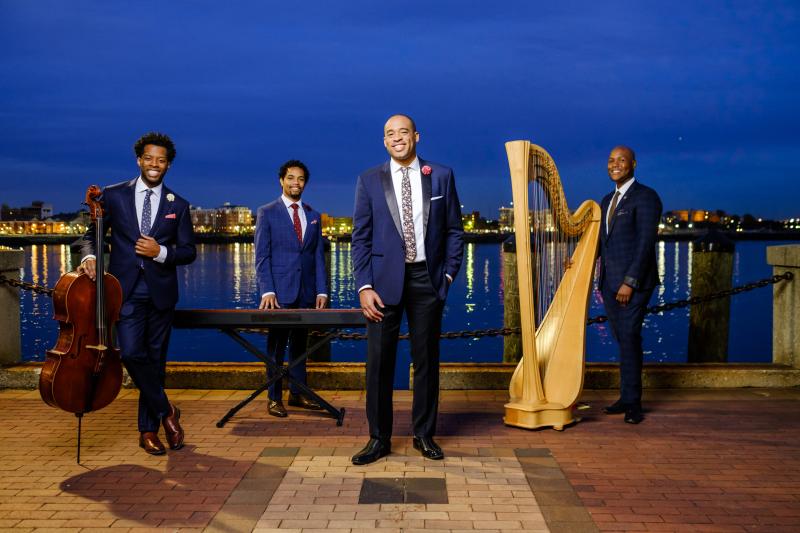 Billboard Charting quartet Sons of Serendip won the hearts of fans and judges alike as finalists on America's Got Talent with their ethereal and emotionally moving renditions of pop music, arranged with a unique blend of vocals, harp, piano and cello. They captured the hearts of Boothbay Harbor Opera House audiences when they performed on its historic stage in 2019. In December, Sons of Serendip brings back their holiday spirit to Maine with a Christmas concert on Friday, December 9 at the Opera.
It was a happy coincidence that brought together the four members of Sons of Serendip. Lead vocalist Micah Christian, cellist and vocalist Kendall Ramseur, pianist Cordaro Rodriguez and harpist Mason Morton met when they were graduate students at Boston University. But it was talent, dedication and a desire to share their music with the world that propelled the quartet to fame. With four hit albums ("Sons of Serendip", "Christmas: Beyond the Lights", "Life + Love" and "Mosaic") and moving live performances, Sons of Serendip has elevated audiences to a sublime experience both national and international.
Their most notable performances include collaborations with Keith Lockhart and the Boston Pops, Plymouth Philharmonic Orchestra, Cincinnati Symphony Orchestra and Cynthia Erivo, as well as performing for the Creative Arts Emmy Awards. In 2019, Sons of Serendip returned to the America's Got Talent stage, as they were selected to compete in the first-ever America's Got Talent: The Champions. The foursome competed alongside 50 of America's Got Talent and Got Talent's Worldwide winners and finalists. Recently, the band performed for the closing celebration of Oprah Winfrey's Vision Tour in Denver, Colorado.
Against the backdrop of the seasonally and stunningly decorated Opera stage, this evening promises to be one of the highlights of the holiday season in Boothbay Harbor. Advance discount tickets are $30 and are available at the box office at 86 Townsend Ave. or by calling 633-5159. Regular tickets are $35 and are available online at boothbayoperahouse.com and on the day of the show at the door. Seating doors open at 7:00 p.m., music starts at 7:30 p.m.