Bravura Philharmonic Orchestra returns to in-person concerts on Sunday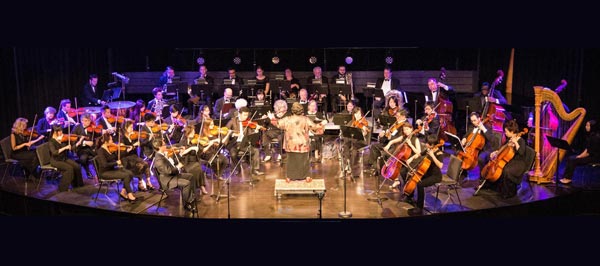 NEW | CHARACTERISTICS | OVERVIEW | EVENTS
originally published: 12/01/2021
(PLAINSBORO, NJ) – The Bravura Philharmonic Orchestra presents its big reopening holiday concert – its first in-person concert since the start of the pandemic – on Sunday, December 5, 2021 at 7:00 p.m. The concert will be held at the Princeton Alliance Church, located at 20 Schalks Crossing Road, at the corner of Scudders Mill Road and Schalks Crossing Road in Plainsboro, NJ.
Led by its conductor Ms. Chiu-Tze Lin, the orchestra will feature the four major winners of the 2021 Young Artists Competition. Selected from over sixty applicants from across the country, pianists Alyssa Xu and Hyeonuk Park, and violinists Hyerin Eom and Jessica Wu.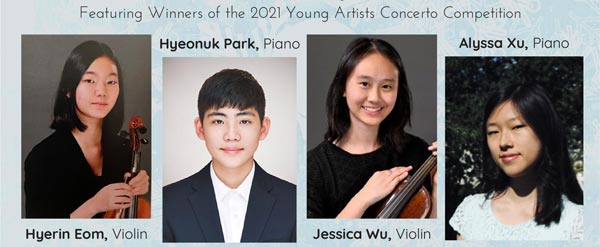 Hyerin Eom is a 15-year-old violinist from Palisades Park, New Jersey. She won first place in the 2021 Grand International Music Competition. Hyerin performed in Weill Hall at Carnegie Hall after receiving first prize in the Rondo Young Arts Competition. Hyerin will play Ravel Tsigane.
Hyeonuk Park is 16 years old. He won first prize in the 2012 National Music Competition of the Daegu National Philharmonic Orchestra in South Korea. He gave his first solo recital in St. Petersburg, where he won the Grand Prix of the International Young Art Premium Competition in St. Petersburg. Hyeonuk will perform on 1st movement from Tchaikovsky's Piano Concerto No. 1.
Violinist Jessica Wu is in her final year of LaGuardia High School in New York City. At age 7, she won the Queens College Competition, and since the age of 9 has performed in several award-winning concerts at Carnegie Hall. She was nominated by LaGuardia High School to receive the Ira Gershwin Fellowship from the ASCAP Foundation in 2021. Jessica will perform the 1st movement of Berg's Violin Concerto.
Advertise with New Jersey Stage for $ 50 to $ 100 per month, click here for more information
---
Pianist Alyssa Xu is a 16-year-old student from West Windsor-Plainsboro High School North in New Jersey. She won the Young Pianist Competition of New Jersey, the Camerata Artists International Competition, and most recently the New Jersey Music Teachers Young Musicians Competition. She has performed at Carnegie Hall, Lincoln Center, Kaufman Music Center and other prestigious venues. Alyssa will perform the 1st movement of Prokofiev's Piano Concerto No. 2.
The program will include an all-time classic for the holiday season, The Sleeping Beauty by Tchaikovsky. The public will also be invited to join in the very popular Holiday Sing-Along.
Wearing a mask is mandatory at all times inside the concert hall. This concert is funded in part by the Middlesex County Cultural and Heritage Commission and the Jacobs Music Center.
Advertise with New Jersey Stage for $ 50 to $ 100 per month, click here for more information
---