Breaking News – Makana Community Members Uplift Citizens with Dazzling Orchestral Concert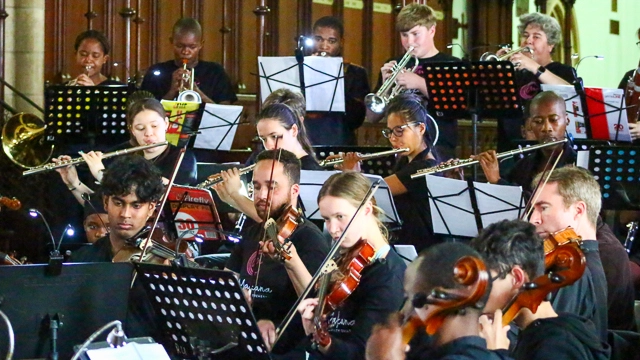 On Sunday, November 13, 2022, the citizens of Makana packed St. Michael and St. George's Cathedral to attend the inaugural concert of the new Makana Community Orchestra.
The power shedding did not deter the Orchestra as musicians sat in the dimly lit cathedral with battery-operated lights shining on their scores. Just after noon, the historic building showed off its resounding acoustics as the Makana Community Orchestra performed a breathtaking 45-minute performance for its audience, including film music, loud marches, Haydn, and a saxophone and chorus quintet. clarinet.
The orchestra includes young and old community members from East and West Makhanda and up to Peddie, all playing side by side.
"What you see in front of you is yours," said conductor and head of music at St Andrew's College, Mr Johan Pretorius. "This community project is from Makana for Makana."
According to the head of the music department at Rhodes University, Dr. Boudina McConnachie, she had the idea to create such an orchestra years ago. When it received start-up funding from the Dean of Humanities Discretionary Fund in September of this year, the orchestra committee immediately sent out appeals to potential members. The orchestra members, numbering around 60, hail from Rhodes University, Access Music Project, Dioecian School for Girls, Victoria Girls High School, Victoria Primary School, Kingswood College , of the Keiskamma Music Academy, and include several individuals. About 15 members are from Rhodes University, but not all are from the music department.
Director of Music at Kingswood College, Ms Nici Coleman, who is the orchestra's principal trumpeter, was one of those who received a call in September. Four of his students and four fellow teachers from Kingswood are now also part of the Orchestra.
Practice sessions began shortly after the encores and were held every Friday evening.
"It became the best way to end my week," Coleman said. "Although everyone is exhausted on Friday night, by the time our practice is over, I'm so glad I went and I'm looking forward to the next one. I feel the same way about Sunday's concert – he was such a hit; I can't wait to perform in the next one."
According to Dr. McConnachie, the seed funding covers transportation for members and a stipend for the conductor, who is responsible for selecting music and conducting practice sessions, among other responsibilities. "However, from next year the Orchestra will be self-sustaining, with the profits from the concerts covering these costs," she explained. Audience attendance at the inaugural concert exceeded expectations.
Probably the most remarkable aspect of this orchestra is the benefits it provides, both for the audience and for the members.
Dr McConnachie hopes the Orchestra will inspire more young people to learn an instrument, which will feed into the music department at Rhodes University.
Coleman has similar hopes for our youth. "Our Makana children don't often get to see a symphony orchestra, which is a shame since we teach them about orchestras at school level. With our own community orchestra, they can now experience it by watching a performance that might even inspire them to want to be a part of it," she said.
As music director, Coleman said she never had the chance to perform with her learners, but the orchestra provided her with that opportunity. "Not only can I play with them, but they can play with me. They can see how I perform in a 'professional' setting and learn from it. Whereas I, on the other hand, have to make sure to maintain this 'professionalism' in front of them because I am aware that they are looking at me and imitating me", she explained.
For anyone who missed the inaugural concert, or those who attended and had a great time, Dr. McConnachie assured that these concerts would become a regular fixture on the Makana calendar. "We're planning to have one in March next year, so watch this space!" she concludes.