FALSTAFF at the Union Avenue Opera in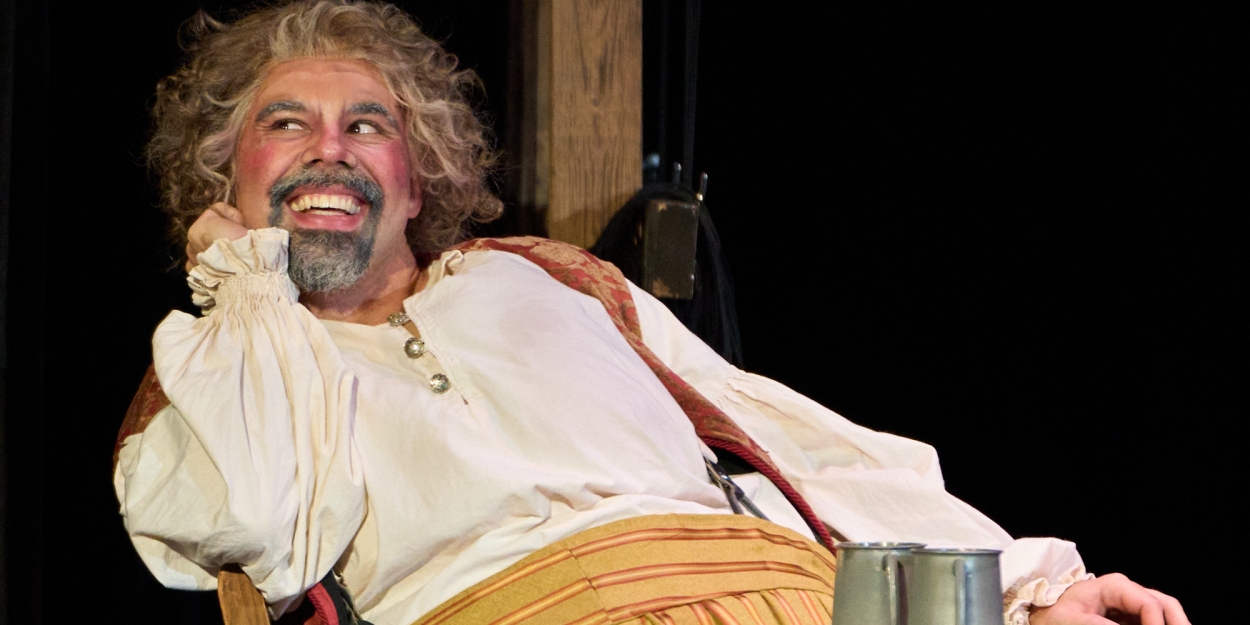 The Union Avenue Opera opened a splendid production of Falstaff.
I'm not a big fan of classic "repurposed" pieces. Poor Shakspeare! It has been subjected to such vandalism over the years with modern "concept" versions of its works. No, I don't want to go see a trendy lesbian-Hamlet-on Mars!
But when Giuseppe Verdi and Arrigo Boito (his librettist) came together in 1890 to adapt three plays by Shakespeare into one opera, it was something different. The result Falstaff is Maestro Verdi's ultimate and final masterpiece – and truly quite faithful to The Bard. The great fat knight of Henry IV (first and second parts) and Merry Wives of Windsor is delightfully recognizable and vigorously alive here on this utterly stunning evening of music.
Verdi and Boito have a checkered history. Boito (Verdi's junior by seven years) came from a wealthy and noble family full of highly educated and deeply cultured people. Verdi was the son of an innkeeper and a spinner. Boito had been a member of the "Scapigliati" ("the disheveled") – a radical art movement that despised tradition – a kind of bohemian hippie anarchists, if you will. In his writings, Boito had violently attacked current Italian music and art. He had deeply offended Verdi, who did not want to speak to him for years.
But Boito was a very good poet, and he himself had composed operas. Moreover, he had already written a libretto for another composer Hamlet. Sohwhen publisher Ricordi urged Verdi to come out of retirement to work with Boito on a Shakespeare opera, he was tempted.
After all, they had similar political passions – the Risorgimento-the liberation and unification of Italy. Boito had fought as a volunteer with Garibaldi, the "father of his nation". Verdi's very name had become the acronym for Italian freedom, symbolized by the first king of the new nation: "Vittorio Emanuele Rei D'Italia".
So the collaboration began. First otello (1887) then Falstaff (1893). Now Rossini could write The Barber of Seville in less than three weeks, while Verdi and Boito worked on Falstaff for three years. But it was worth it!
Union Avenue Opera's current production is a resounding success! Verdi, writing this as he approaches his 80th birthday, offers us music that is surprisingly rich, complex and energetic. Without even an opening gesture, we jump straight into the exuberant action of the first act.
Falstaff, short of funds, decides to seduce two married women and thus access their money. But the ladies are on his plan and have decided to teach him a lesson. Lots of comedy ensues.
Robert Mellon was a brilliant Figaro on Union Avenue last season Barber of Seville. Now he's the perfect Falstaff. The apparent additional avoirdupois has in no way weighed down his splendid baritone voice, which rises to truly fill the room. And what a sense of comedy! (Such a smile! [Such teeth!]) Towards the end, after Falstaff has been mocked, abused and plunged into the muddy Thames, we see him slumped alone, exhausted, silent – slumped like a lump of defeated despair. But then Mellon's glorious voice bursts forth brimming with life and vigor. It's amazing !
Falstaff's henchmen, Bardolfo (Marc Schapman) and Pistola (Mark Freiman), are excellent singers and most admirable comedians. They fill every moment with life and action.
Happy wives are really happy. Karen Kanakis who in recent seasons has sung central roles in Winter Opera's Fanciulla of the West and Sweat Angelica, does a perfect job as Mrs. Alice Ford. She is tall and beautiful. She has the glamour, grace and allure of a diva, a sparkling voice and a delightful comedic sense. Melody Wilson voices Mrs. Meg Page, Falstaff's other romantic target. It's a smaller role, but Wilson makes the most of it with her beautiful mezzo voice and wonderfully expressive eyes.
The two young lovers of Union Avenue's Candid return as young lovers, Nanetta Ford and Fenton
. Brooklyn Snow is weepingly beautiful in person and voice. His pure soprano can carry these solitary high notes almost endlessly. And tenor Jesse Darden, once again, fills his songs with absolute sweetness.
Mezzo Janara Kellerman deserves special praise in her role as Mistress Quickly. She sumptuously fulfills the comedic and melodramatic demands of this role. And her voice is beautiful. Five stars!
Anthony Heineman (a Union Avenue favorite) as Dr. Caius, the target of the romantic joke in Falstaff, and Jacob Lassetter as Ford, the suspect husband, do a great job.
Verdi's music is very much like beautiful film music. It is programmatic in detail. Once each step is marked with a pizzicato (like Sylvester on tiptoe on Tweety-Bird. Twice, the tremor of a bag of gold coins is accompanied by an instrumental shimmer and click. But such things are trivial. The music as a whole is wonderfully rich and complex. One scene has the female quartet and the male quintet singing rapidly along with lyrics and in different time signatures! Then a man moves to the center, and we have two quartets and a solo; then he returns to his quintet. This is Verdi at his best.
And he was nearly eighty!
Director Stephen Hargreaves leads his great orchestra in a beautiful marriage with the singers, always supporting the voices, never dominating them. Hargreaves shows a masterful command of dynamics.
Director Jon Truitt deftly handles this great cast, with great attention to comedic detail. (The forest scene where Falstaff is pushed, pinched, and tormented by all the imps and fairies was rather constrained by the small action area, but this scene is a little presumptuous to begin with.)
Set designer Lex Van Blommenstein makes the most of the small stage, with a number of hanging fabric panels that are lowered or raised to give us an inn, a house, a forest with a large oak tree. Scene changes are wonderfully quick. (Kudos to stage manager Megan-Marie Cahill.) The raising and lowering of these scenic panels is accompanied by a picturesque creak of rope and pulley. Attractive! So real, so old fashioned! Not a touch of electronics anywhere (except in the cleverly presented surtitles).
The costumes, by Teresa Doggett, are absolutely wonderful – perfectly period and well fitted, they give the impression that these people really live in these clothes. (Alice Ford's cape and hood in the forest scene are simply stunning.) Patrick Huber's lighting captures the cheerfulness and/or dread of each scene.
Verdi and Boito, after working together, became good friends, and when Verdi died Boito was at his bedside.
by Verdi Falstaff is another glittering gem on the Union Avenue Opera train.
"If it was really Queen Elizabeth who demanded to see Falstaff in a comedy, then she proved to be a very insightful critic. For this he had to wait almost two hundred years until Verdi wrote his last opera. Falstaff isn't the only case of a character whose true home is the world of music; others are Tristan, Isolde and Don Giovanni. -WH Auden