Kayoko Dan of Chattanooga Symphony & Opera takes stock of her accomplishments as she wraps up her final two seasons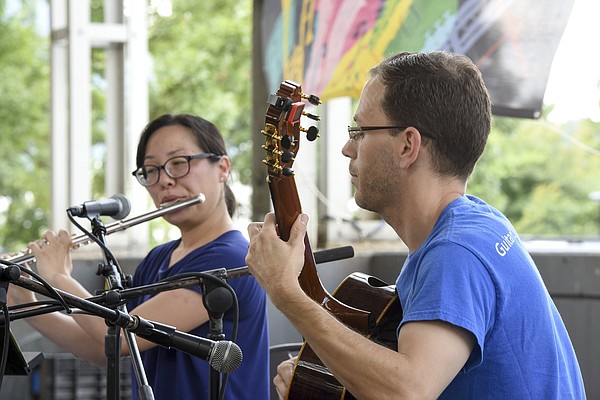 When Kayoko Dan steps down as Music Director of the Chattanooga Symphony & Opera at the end of the 2023-24 season, she will have served in that position for 14 years. It's a tough position at the best of times, if such a thing can exist for an arts organization with 65 full-time and part-time members. The job requires a broad skill set that combines managerial and artistic abilities that delight musicians, donors and fans alike.
Add to that a pandemic and a theater renovation that requires moving shows entirely different place for a few years, and it becomes even more difficult. Dan, however, said in a phone interview last week that she likes a challenge and thinks the CSO has been up to the task.
"We saw a lot of growth," she said, "but at the same time a lot of resilience. We had to endure a lot."
"The CSO has been through a difficult time largely due to COVID," CSO executive director John Kilkenny said via text message. "Thanks to dedicated community members, a smart board and talented musicians, we are well positioned for the future – we are planning an expansion of our community and family concerts, new concert series in different venues of the region and a full investment in our educational programming."
Board Chairman Don McDowell added in a press release, "Kayoko is an accomplished musician and educator, with a unique combination of kindness, humility and generosity of spirit. This, coupled with its commitment to excellence, has shaped the Chattanooga Symphony & Opera into an organization dedicated to passionate and heartfelt music that audiences appreciate and celebrate. »
Dan is the first female musical director in the history of the Chattanooga Symphony, which was formed in 1896 and merged with the Chattanooga Opera Company in 1985. She announced earlier this month that she would be stepping down at the end of next season. She told the Times Free Press by phone that she originally planned to hand over her CSO stint in 2021, but didn't think it was right to leave the organization during a pandemic with the Tivoli Center renovation at the horizon.
She added that she thinks a music director can extend the onboarding time to the point that musicians become comfortable, which she says is not good for an artist.
"When they know what I'm thinking, it's not good," she said. "Artists need to be challenged, and when they feel comfortable, they don't."
She should know the challenges and comfort levels. In addition to dealing with "normal" work-related stuff, there was the pandemic. And work has begun on the renovation of the Tivoli Centre, which includes the home of the CSO, the Tivoli Theatre.
As part of this work, the CSO has temporarily taken up residence at the Memorial Auditorium. There are approximately 3,700 seats, more than double that of the Tivoli. The auditorium does not have an orchestra pit or an acoustic shell like the Tivoli, so it presents some challenges.
But having it as an option is a bonus that not all orchestras have, Dan said, and dealing with some of those challenges has only made the orchestra stronger. When the work at the Tivoli is complete, she said, it will be a great experience for fans who will benefit from better acoustics and easier access to bathrooms and concessions.
"For an orchestra, the hall is our instrument, and the better the hall and the better its acoustics, the better it is for everyone," Dan said.
"If we know that our audience is having an overall pleasant experience with easier access to bathrooms and that everything is enjoyable and fun, that reflects on the overall quality of service. I'm really excited about that."
Dan gives the old Executive Director Samantha Teter much credit for keeping the symphony active during the worst of the pandemic by finding creative ways to perform, such as performing shows with fewer musicians and limited audiences.
"She was determined that we provide a live performance and that they would be presented in a safe manner," Dan said of Teter.
She also credits Operations Manager Kathy Allison for aggressively finding venues that would host a show.
These smaller shows were a stark contrast to Dan's first outing, which turned out to be Pops on the River in July 2011. While a sold-out symphony show at the Tivoli seats around 1,600 people, the theme of the July 4 Pops on the river shows can approach 20,000, with fans showing up early to get a good seat on Coolidge Park's sprawling lawn. Dan said the symphony was rehearsed at the University of Tennessee at Chattanooga and also worked with the Chattanooga Theater Center for some pre-show events.
Dan said it was a great way to be introduced to the OSC and the city.
"I understood Chattanooga and the CSO right away, and it's a really great event," she said.
Dan said that among the accomplishments she is most proud of during her tenure is the breadth and variety of work presented by the CSO.
"We did a lot of new work, welcomed several composers and experimented with different formats," she said. "But I think perhaps the thing I'm most proud of is reaching different demographics while maintaining our core audience."
She said there's a fine line between showcasing some of the traditional works that long-time ticket buyers have come to expect and new, more progressive or experimental works.
"It was a progression that involved gaining confidence that I would present something exciting," she said.
"It's hard sometimes because some resist change. I grew up loving Brahms, Beethoven and Mozart, but you have to remember that at some point they were new.
"We can't be left behind and stuck in a mindset of 200 years ago. The world is changing very fast, and if we're stuck in the past, we're going to be left behind."
As for her own future, she says she doesn't know what that will entail. She was named Director of Orchestral Activities and Assistant Professor at Sam Houston State University in Texas in 2021. She said she loves teaching and plans to put more time and effort into it, but added that she would like to direct somewhere.
The CSO Board and Orchestra have formed a search committee to find Dan's replacement for the 2024-25 season.
Future event
The Chattanooga Symphony & Opera will present a chamber performance, "Beethoven's Symphony No. 8 and Ancient Airs and Dances," at 3 p.m. Sunday at the Chattanooga State Community College Humanities Building, 4501 Amnicola Highway. Admission is $10 to $35. For more information visit chattanoogasymphony.org
Contact Barry Courter at bcourter@timesfreepress.com or 423-757-6354. Follow him on Twitter @BarryJC.