Kunqu Opera joins harp quintet to breathe new life into music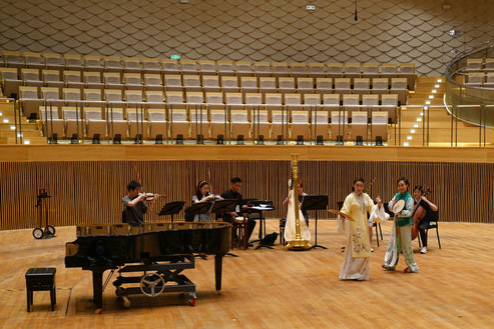 A harp quintet and the ancient Chinese opera Kunqu will meet in a concert by the Suzhou Symphony Orchestra, which will take place on July 9 at Jinji Lake Concert Hall in Suzhou, Jiangsu Province.
This will be the first crossover performance of actors and actresses from the Suzhou Kunqu Opera Theater and classical musicians from the Suzhou Symphony Orchestra. They will perform songs from the classic Kunqu opera piece, The pavilion of peoniesby Tang Xianzu, playwright of the Ming dynasty (1368-1644).
"I was listening to Kunqu opera when I was studying in Australia, and the harp will play the role of traditional Chinese musical instruments, such as sanxian and pipain this crossover performance," says Australian harpist Jessica Fotinos, the principal harpist of the Suzhou Symphony Orchestra. "It was a pleasant experience to work with artists from Kunqu Opera and the story of The pavilion of peonies is very romantic and dreamlike."
"The crossover show will introduce the 600-year-old Kunqu Opera to more audiences, who may have never watched Kunqu Opera before, especially young audiences," said Liu Yu, an actress. of the Kunqu opera who will play the main role of The pavilion of peonies like Du Liniang.
The pavilion of peonies will open the Hua Xia Music Festival of the Suzhou Symphony Orchestra. On July 15 and 16, conductor Chen Xieyang will lead the orchestra to give a concert, featuring pieces of music such as The Long March Symphony composed by Ding Shande and eastern horizon for piano and orchestra composed by Huang Kairan. Pianist Tan Xiaotang will perform with the orchestra. The concert marks the 95th anniversary of the founding of the People's Liberation Army of China.