Kyneton's place at the Opera gala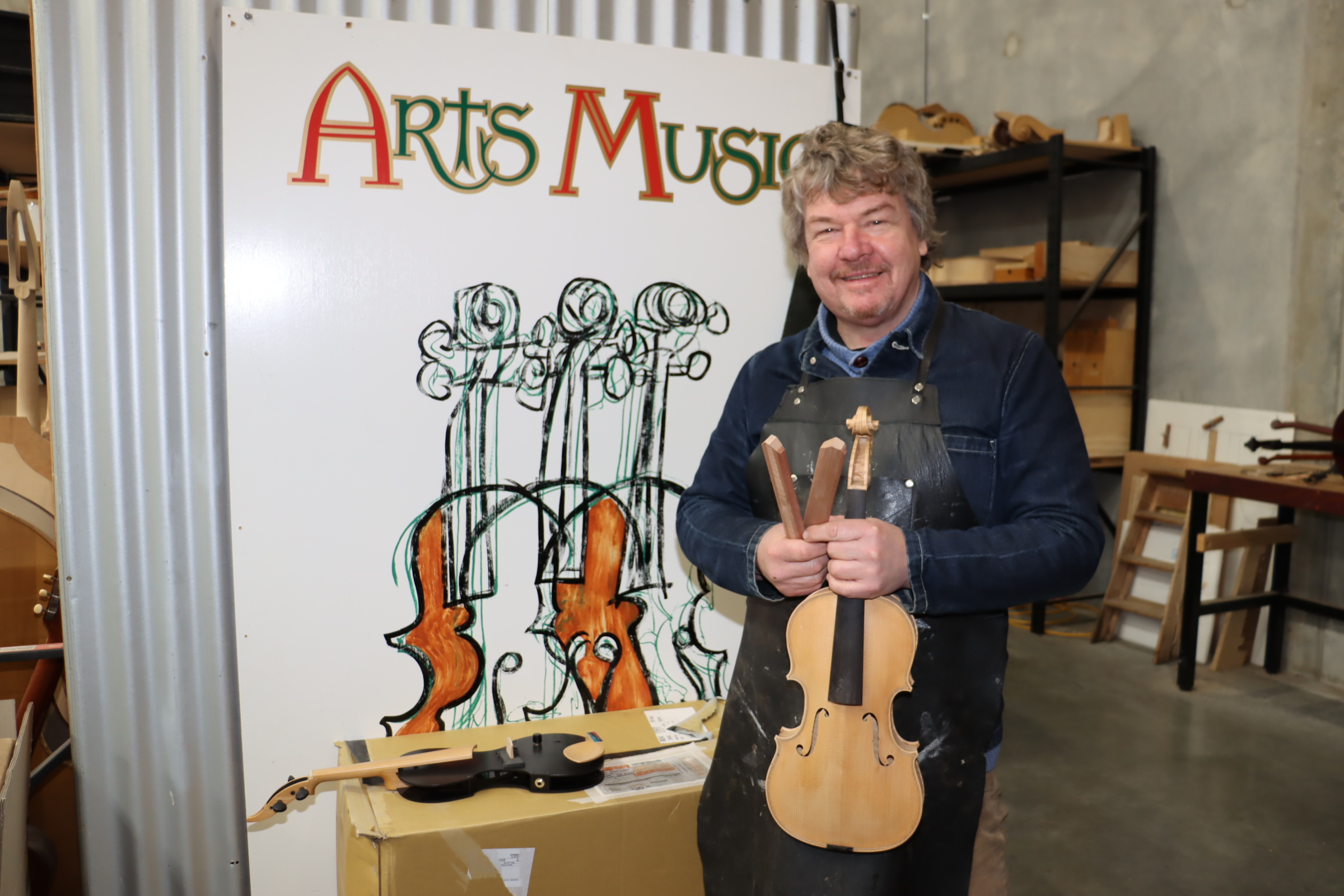 Angela Crawford
Kyneton luthier Paul Davies used reclaimed wood from the Sydney Opera House to craft 50 sets of clapsticks for a gala concert at this iconic Australian landmark.
Commissioned to make the instruments by Indigenous composer and performer William Barton, Davies created the clapsticks that will be played by children at the Opera House last Thursday night.
Barton created an orchestral composition, Of the earth, for the Sydney Symphony Orchestra concert, which celebrated the completion of the Concert Hall's extensive two-year renovation.
"I've known Will for some time now and have made a few violins for his partner, Véronique Serret, who was part of the Australian Chamber Orchestra for many years," Davies explained.
"We caught up with him when he was in Melbourne a short time ago, and he asked me if I would do this, and I have to admit I thought 'of course I will, but why not? don't you ask a native person?'.
"But I knew enough about Will not to ask that question, he would have figured that out by now, and I think it's about the inclusivity that he really embraces."
As part of the refurbishment, the wood that was originally in the Sydney Opera House was removed and collected.
Eucalyptus wood was shipped to Davies to be planed and carved into clapsticks for the gala concert.
"We call them clapsticks, the native instrument, but the orchestral instrument is the clave," Davies said.
"As soon as I received the wood, I knew that each set had to be unique, and I had little time to make them, only a few days.
"Using the plane, we were able to create an elliptical shape, and with that shape, you can get four different sounds depending on how you hit it.
"Will loved it."
Davies wanted to ensure that the pairs of sticks, each carved from the same piece of wood, would stay together, so he was able to mark the sticks with a line-and-dot numbering system.
"I was able to number all 50 using lines and dots so you know each will always go with their partner," he said.
Davies established his studio in Kyneton 12 months ago but has worked all over the world including London, New York, Shanghai and Mexico City.
He spent 20 years in Castlemaine where he patented Spur violins, the first to be designed to be amplified.
"Spur fiddles were originally designed in Castlemaine many years ago, and they were designed as an instrument to have a beautiful acoustic sound when amplified," he told the Express.
Davies restores antique instruments and makes one-of-a-kind custom violins using traditional hand tools and methods.
It also develops new manufacturing and restoration systems using state-of-the-art manufacturing techniques and equipment.
The Sydney Symphony Orchestra Gala Concert can be viewed on ABC iView.