Lyric Opera stages an engaging preview of the 2022-23 season as part of the Millennium Park Concert | Chicago News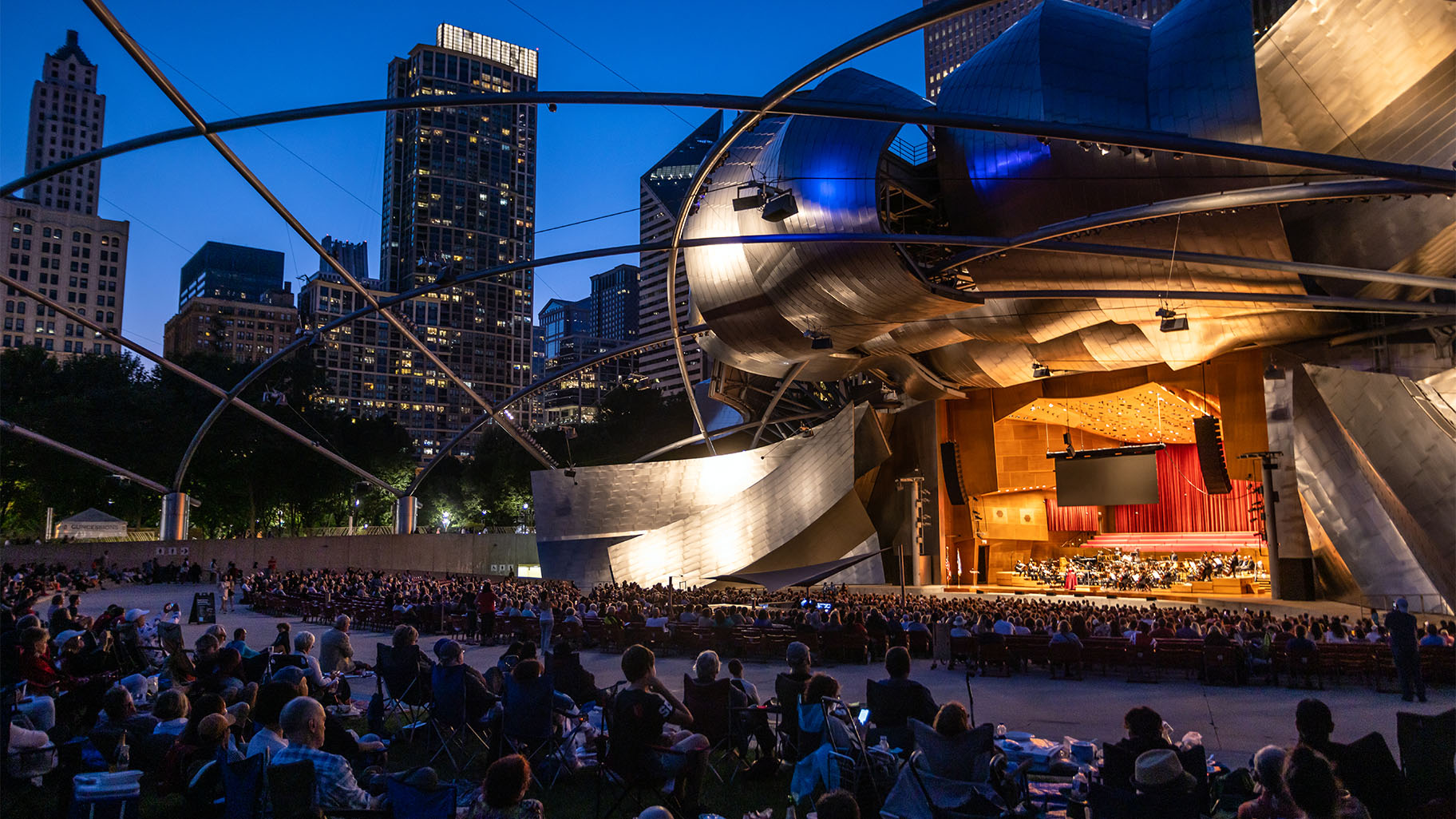 Lyric Opera Music Director Enrique Mazzola and Ryan Opera Center Principal Conductor/Pianist Donald Lee III conducted the Lyric Opera Orchestra and singers from the prestigious Ryan Opera Center training center on the stage of the Pritzker Pavilion , August 21, 2022. (Credit: Kyle Flubacker)

Earlier this summer, Maestro Riccardo Muti led the Chicago Symphony Orchestra in a spirited, free concert at Millennium Park that drew an audience of 12,000.
Sunday evening, following a thunderous few days of the Chicago Air and Water Show, Lyric Opera Music Director Enrique Mazzola (along with Donald Lee III, the Ryan Opera Center's first conductor/pianist), led the Lyric Opera Orchestra and singers from the prestigious Ryan Opera Center training center on the same stage of the Pritzker Pavilion.
The weather was perfect, the concert drew an estimated audience of around 7,000, and even the irritating roar of a helicopter and the sound of a few emergency sirens failed to distract the gifted performers on stage.
Meanwhile, on Monday morning, the front page of The New York Times ran a story about declining audiences for its major performing arts companies under the headline "Stars Return to Fill Stage, But Watch Many Empty Seats ". Much of the blame for the situation has been blamed on the pandemic, but while that certainly remains a cause of the problem, I would say there is another problem as well. Because while there is still a large and enthusiastic audience for opera, classical music and dance, ticket prices, especially in times of inflation, also play a role.
Lyric's free outdoor concert was an engaging event, notable both for its gathering of a dozen exceptional singers ideally backed by Lyric's excellent orchestra, as well as for the clever way in which it served as a teaser for the upcoming company season. And, in addition to the operatic repertoire, there were songs from both classic Broadway musicals to play Lyric – "Fiddler on the Roof" (this fall), and a cover of his 2019 production of "West Side Story " (in June 2023).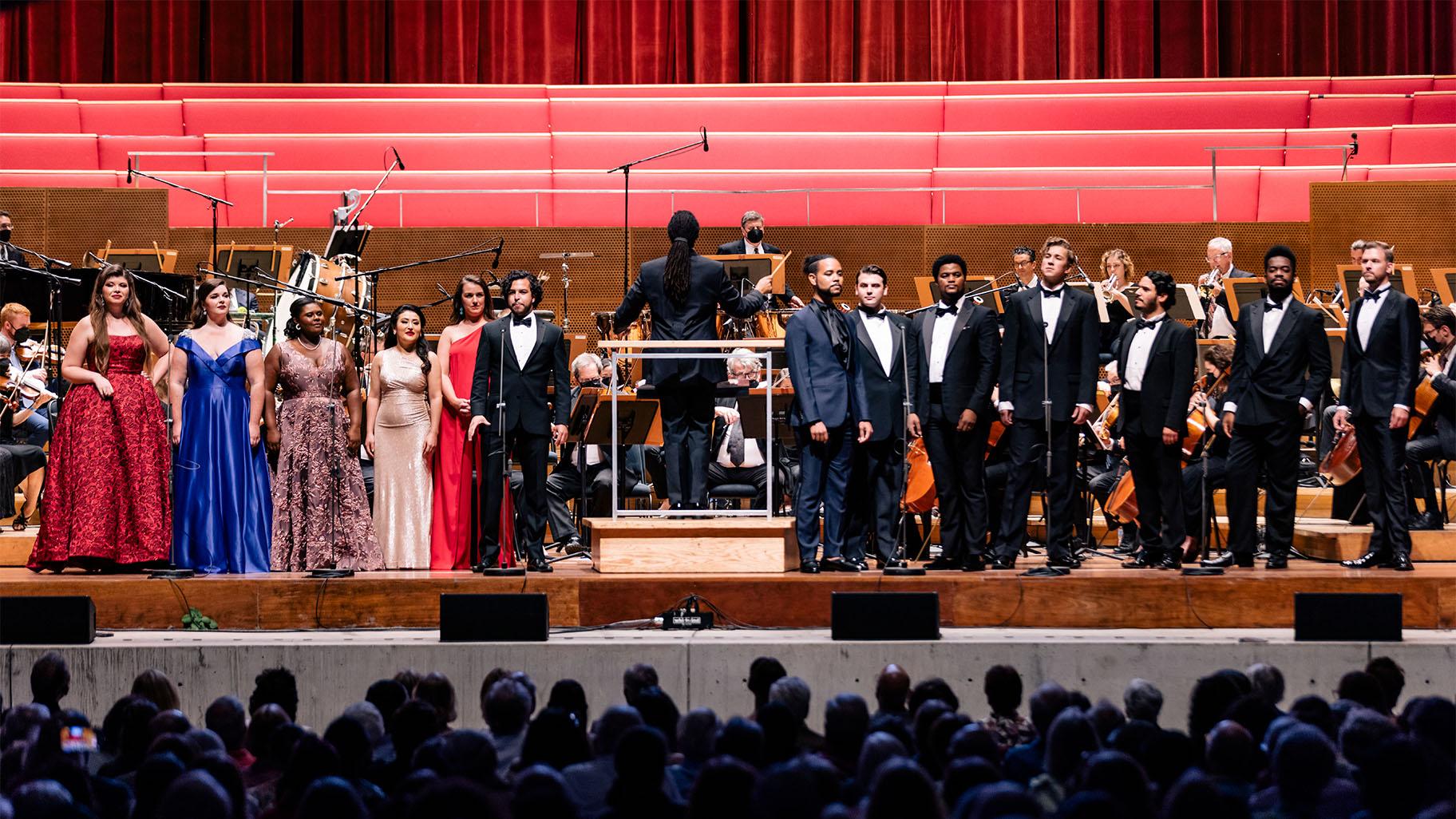 The set of the Ryan Opera Center, led by the Donald Lee III Pritzker Pavilion, August 21, 2022. (Kyle Flubacker)

Opening the program was the wonderfully captivating Overture to Engelbert Humperdinck's opera, "Hansel and Gretel". The music eschewed the usual obscurity of this Grimm fairy tale about an evil stepmother and witch who abuse a brother and sister who prove they're just cunning enough to survive.
Next comes Verdi's rarely performed work, "Ernani," the story of Elvira (captured in a feverish coloratura aria sung by Kathryn Henry), a woman madly in love with the title character (a persecuted noble forced to live as a bandit), but who is pursued by both her elderly uncle, Don Ruy Gomez de Silva, and King Carlos of Spain.
Then it was Rossini's 'Le Comte Ory', a wacky love story featuring a formidable trio of Lunga tenor Eric Hallam, mezzo-soprano Katherine Beck and soprano Lindsey Reynolds.
A change of pace came courtesy of "Fiddler on the Roof," the classic Jerry Bock/Sheldon Harnick musical. Mezzo-soprano Katherine DeYoung and sopranos Kathryn Henry and Lindsey Reynolds delivered a wonderfully spirited rendition of the song "Matchmaker, Matchmaker" in which two of Tevye's daughters express their mistrust of Yente's choice of husbands. matchmaker. Donald Lee III conducted.
And then it was "Don Carlos," Verdi's epic five-act opera about war and peace, and a father and son fighting over the same woman. The prince of the title (sung with success by the tenor Alejandro Luevanos), is in love with his young stepmother, Elisabeth de Valois. Baritone Laureano Quant and tenor Ryan Capozzo joined a strong operatic duo.
The four excerpts from Bizet's all-too-familiar "Carmen" were, of course, irresistible, from the Overture to DeYoung's lively rendition of the Habanera, "Love is a Rebellious Bird," to the gathering of superb vocals (De Young, Velez, Beck, Ian Rucker and Ryan Capozzo) for "We've Got a Case in Mind" and, of course, for the ever moving "Toreador Song" (under Lee III).
This lyrical concert also presented two excerpts from "Proximity", a trio of unpublished works (in English) that deal with the major social issues of the 21st century. It will have its world premiere in March 2023.
Wm. Clay Thompson (accompanied by Chris Reynolds on piano), deployed his solid bass voice in a tune by Caroline Shaw whose lyrics were not quite musical. Ron Dukes (with Reynolds on synthesizer) gave an absolutely riveting performance of "In the cold ring of blood," an impassioned aria about a black man in fear for his life.
The evening closed with "Tonight", the love song from the Leonard Bernstein/Stephen Sondheim classic "West Side Story". Presented at Lyric in 2018, the production will be remounted in June 2023. It was performed by soprano Denus Velez and tenor Martin Luther Clark, with Lee III again as conductor.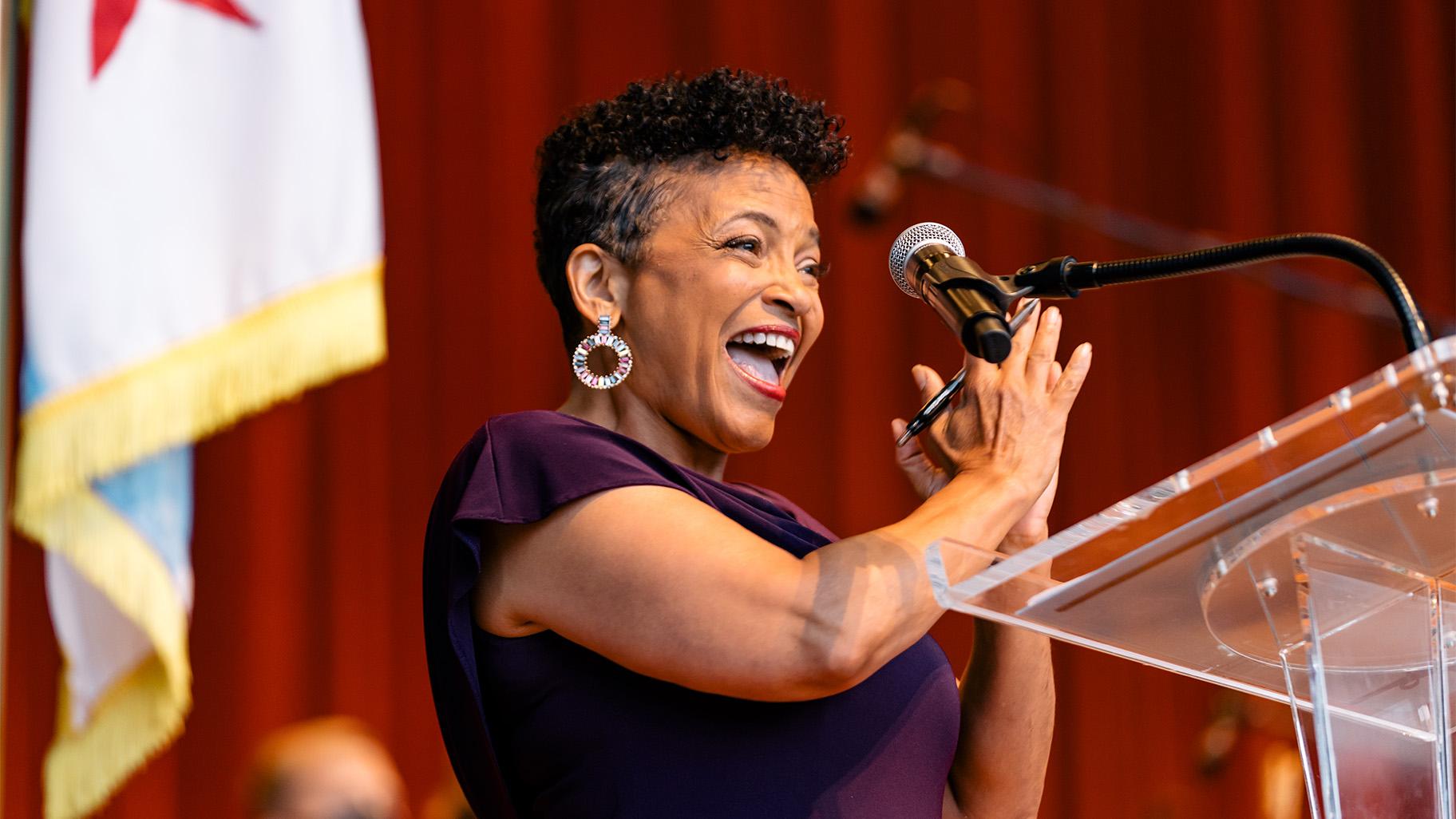 NBC5 Chicago's LeeAnn Trotter hosts Sunday in the Park with Lyric on August 21, 2022. (Kyle Flubacker)

Finally, kudos to NBC5 Chicago's LeeAnn Trotter, who was the exuberant host of the evening and prefaced the concert with a lively preview of the operatic excerpts to be played, and to the marching band who prefaced the evening with a fiery tribute to the armed forces of the United States
Follow Hedy Weiss on Twitter: @HedyWeissReview
---