Midcoast Symphony Orchestra will perform "Family Classics"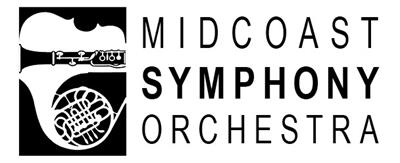 The Midcoast Symphony Orchestra (MSO) conducted by Rohan Smith, presents two concerts of music for the whole family on Saturday, March 19 at 7 p.m. at the Gendron Franco Center in Lewiston and Sunday, March 20 at 2:30 p.m. at the Orion Performing Arts Center of Topsham. A musical triple threat, guest artist Wayne from Maine will perform trumpet and piano solos, in addition to sharing the conducting podium with Smith.
Originally from St. Louis, Missouri, Maine has been performing in the New York area for over 30 years. Best known as a trumpeter, du Maine has performed and recorded with ensembles such as the New York Philharmonic, Orpheus Chamber Orchestra and the Metropolitan Opera. He has also starred in numerous Broadway shows, including the current reboot of The Music Man starring Hugh Jackman and Sutton Foster. With MSO he will perform Haydn's ever-popular Trumpet Concerto.
Du Maine is also a good pianist, having started college as a piano major. He will perform the first movement of Mozart's Piano Concerto No. 23 with the OSM. He is currently Music Director of the New York University Orchestras, as well as many other New York area ensembles, and has conducted musical theater productions at Lincoln Center.
Each MSO program this season features one or two contemporary works, including music by Maine composers, women and other underrepresented groups. This program features "Banner", written by Jessie Montgomery. "Banner" is a 200th anniversary tribute to our national anthem and MSO's opening track, "The Star Spangled Banner". The orchestra will also perform Suppé's highly recognizable "Light Cavalry Overture", Handel's Water Music Suite No. 3, Grieg's Peer Gynt Suite No. 1, Rossini's "Semiramide Overture", and the moving "Star and Stripes Forever ". by Sousa.
Topsham audience members are invited to attend a free performance before the Peterson Family String Band concert from 1.30pm to 2pm on Sunday. This accomplished family will perform in a variety of musical styles, including classical and violin.
The orchestra's second annual winter online auction will be held March 13-20 and will feature a selection of merchandise, gift cards, unique experiences, classes and handcrafted items. Complete information about this fundraising event is available at MidcoastSymphony.org.
All MSO musicians and staff are fully vaccinated against COVID-19. Members of the public must wear masks to attend concerts, which will be at reduced capacity to allow for social distancing. Check the orchestra's website at MidcoastSymphony.org for updates on COVID protocols.
Tickets are $22 in advance, $25 at the concert, free for ages 18 and under and for college students with ID. Audiences are encouraged to purchase tickets in advance at MidcoastSymphony.org or by calling 207-846-5378.