" Olivier ! » on stage at the Old Opera | Journal-news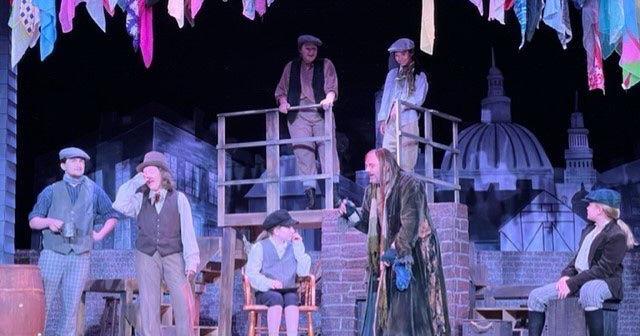 CHARLES TOWN – Oliver Twist appears on stage at the Old Opera House Theater in Charles Town, where he will take audiences on a wild adventure through Victorian England.
Lionel Bart's adaptation of the famous work by Charles Dickens is offered as the theatre's summer family production – an event eagerly awaited by many young actors and theater lovers.
Camille Frail leads the cast as Oliver, the story's young orphan who navigates the underworld of robbery and violence in London in search of a home, a family and, above all, a life. love.
Welcomed into a gang of pickpocketed children by the Artful Dodger, played by Caroline Brewer in the OOH production, he is specifically welcomed by Fagin, whose role is hosted by Lee Hebb. During the story, Oliver is falsely framed for a robbery he didn't commit and is rescued by a kind, wealthy man, much to the chagrin of Fagin's violent sidekick, Bill Sikes. Harry G. Neidig III aptly shows the true character of Sikes to the audience.
Audiences will be captivated by the portrayal of all the characters, like Ed Conn, Christine Brewer, Carl Dunn Debbie Myers, Logan McDonald, Duncan Coverly, Karen Frail, Daisy Mason, Glenn Frail, Dominic Massimino, Dorothy Miles, Sarah Ward, Kat Elizaveta and Daniel Rossbach help bring Dickens' Victorian England to life.
The play wouldn't be true to life without the additional depiction of the workhouse children who draw sympathy in their plight. Aby Cole, Grace Derrick, Avalyn Everly, Brynn Leicester, Claire Miles, Lauryn Miles, Isabel Rosa, Olivia Smith and Amelia White represent these kids on the OOH stage. The talent of these young actors is revealed since several of them also play members of the pickpocket gang, such as Joelyn Obermuller.
The collaboration of several families in the production shows what a unique and memorable summer event this play was, as they worked together to bring these characters to life.
This summer family production is really that – family. Many of the actors and actresses in the production share the stage alongside their parents, siblings and extended family members. Dustin McQuaid, David Leicester, Adam Leicester and Aidan Cornell are also involved on stage or behind the scenes.
Rounding out the experience and providing live music for the timeless songs performed, orchestra members Paul Cabell, Heather Helton, Sari Chaffins, Elizabeth Wagner, Alli Litten and Will Carr.
Showtimes for the show began Thursday and continue tonight and Saturday at 7:30 p.m. and Sunday at 2 p.m. Ticket prices are $22 for adults, $15 for youth under 18, and $19 for military, seniors 65 and older, and students 18-25.