Opera Review: Wagner's Die Walküre, Melbourne Opera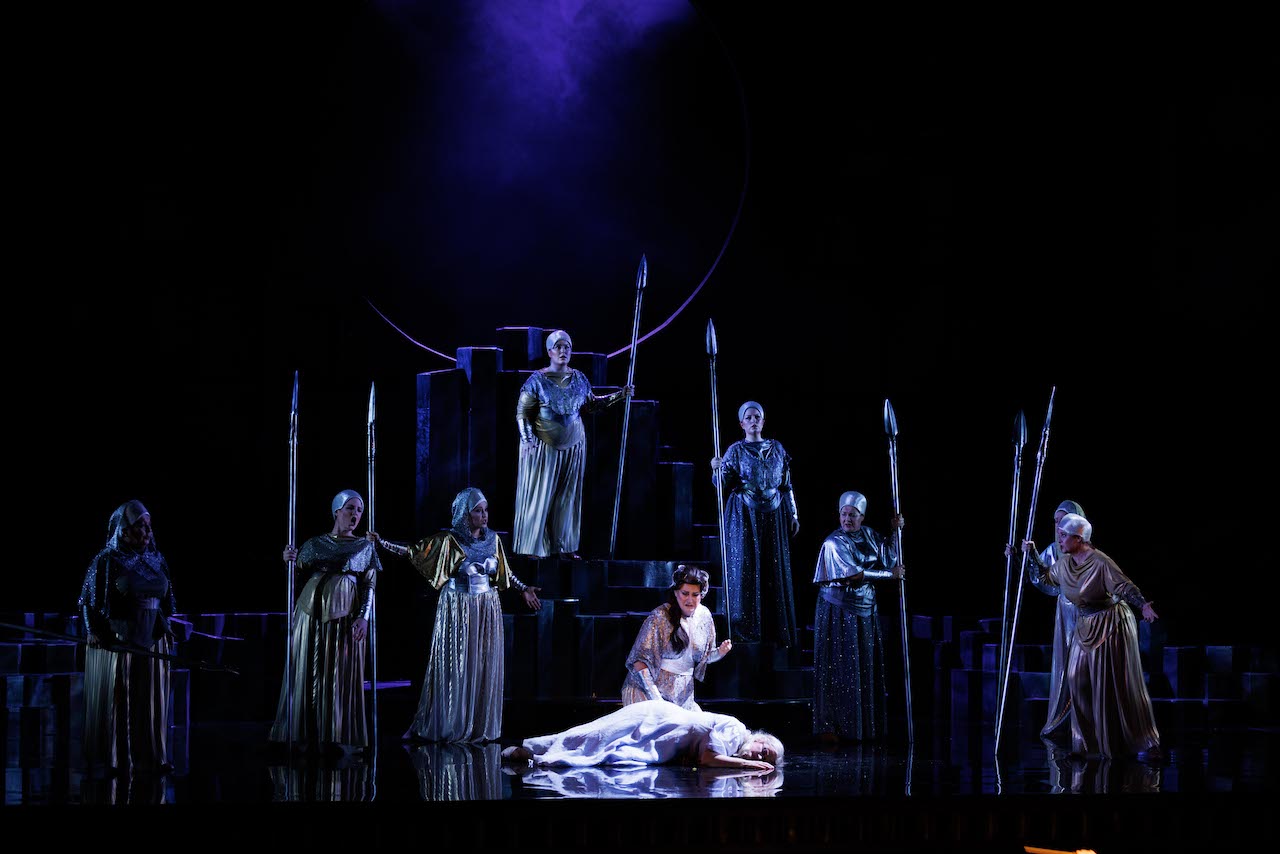 Opening night of Die Walküre (second part of Wagner The Ring of the Nibelung) was a scintillating storm; the play's innovations in decor, costumes and dramaturgy as luminous as the sublime orchestral and vocal aura. Set designer, Andrew Bailey, amplified the celestial themes to epic proportions through storm projections, a stage with a water-like finish, gleaming marble stage blocks and a large tree trunk in which a glowing sword was struck. If you are a fan of star wars Where The Lord of the Ringsyou would like Wagner's The Ring of the Nibelungs (aka The Ring Cycle) for its fantastical nature and this production did not disappoint.
The story essentially revolves around an argument between King of the Gods Wotan (Warwick Fyfe) and his wife Fricka, Goddess of Marriage (Sarah Sweeting) over issues of morality and self-determination. Wotan wants to protect his son Siegmund, while Fricka wants him to be punished for adultery and, by proxy, Wotan too, for his unfaithfulness to her. In the end, the two agree to a cruel pact to have him killed in battle, presided over by their mystical daughter Brünnhilde. It's a dark plot, perhaps worthy of the trials and tragedies of two years of pandemic. The sublimity of this production visibly moved the Melbourne audience in a nearly full Her Majesty's Theater and reminded us all of what a tour de force of live opera is all about.
The scene that shone brightest was Act II, which took place in the mountain estate of Fricka and Wotan. Harriet Oxley's exquisite costumes and Rob Sowinski's lighting design were stunning. Sweeting beamed like the goddess of marriage; adorned in a gold Klimt-esque floor-length gown with a crinoline petticoat and headband with a sparkling crescent fluttering above. Her every move caught the light rafting down on her. The iridescent robes of Ride of the Valkeries at the start of Act III also brought sparkle to this nonet of feminine ferocity. Their voices were beautifully strong as they sang the famous battle cry of "Hojotoho". Their high dramatic tones were perfect; their delivery, electric.
Read: Theater Review: Orphans, TheatreiNQ and Stacks On Theater
The orchestra was superbly conducted by maestro Anthony Negus, who went back on his promise to make the music "viscerally alive in the moment" (according to an interview with opera playwright Sophie Rashbrook). Indeed, Negus brought out the intensity of the two major protagonists, Siegmund and Brünnhilde, leading the orchestra to a swelling crescendo and simmering diminuendo in this Ring Cycle opera that has the most orchestral intrusion into the vocals.
Suzanne Chaundy, the director, has done a wonderful job of dramatizing the bond between Brünnhilde and Siegmund, causing pathos for their story, which is quite an achievement, given that it is mired in dark areas of incest, exceptionalism and machismo.
The Melbourne Opera, under the direction of Chaundy, has truly pulled off a production of existential greatness and sublime beauty with Die Walküre. Given the dark subject matter and legacy of questionable gender and racialized mores that Wagner's productions undoubtedly bring to the table, I was delighted to see the feminine ferocity of Valkerie's scenes and the dramaturgy of women in the story shine. In doing so, he posed important questions to the audience.
As Chaundy puts it: "In Die Walküre we experience the power of love". I left this production having disarmingly embraced the rawness and vastness of emotions shared by the cast, in a production that exposes the flawed humanity of everyone, even the gods. It was like coming out of a storm, one of the deepest leitmotifsshaken, unresolved and questioning.
by Wagner Die Walküre
Presented by Melbourne Opera
Conductor: Anthony Negus
Directed by: Suzanne Chaundy
The cast includes: Warwick Fyfe, Zara Barrett, Lee Abrahmsen, Bradley Daley and Sarah Sweeting
Tickets: $25 to $170
by Wagner Die Walküre will be performed at Her Majesty's Theater in Melbourne until February 16 before touring at Ulumbara Theater in Bendigo on February 27.