Paducah Symphony Orchestra concert season kicks off Saturday | New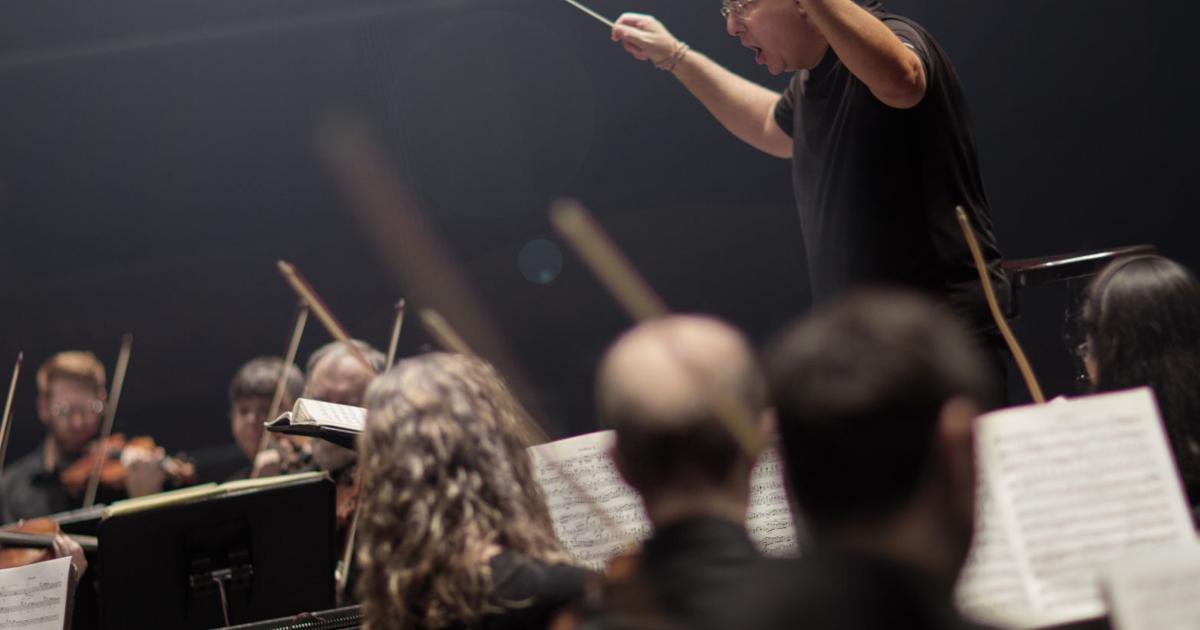 The entire Paducah Symphony Orchestra will take the stage on Saturday at the Carson Center for the first time since February 2020, as the symphony celebrates its opening night of the 2021-22 concert season.
Raffaele Livio Ponti, artistic director and conductor of the PSO, is looking forward to the start of the new concert season and he "looks forward to seeing everyone" in the concert hall. He also expressed gratitude for the continued support from customers to the OSP, noting the difficult times with the COVID-19 pandemic.
"I came in this season with a really big repertoire, because – you know – we're back and your first time at bat again, you don't want to block the ball," Ponti told The Sun. "You want to swing and hit a home run."
The first concert of the season, which will take place on Saturday at 7:30 p.m., will feature Tchaikovsky's Piano Concerto No.1 and a symphony by Louise Farrenc, a French composer. Canadian pianist Stewart Goodyear is the guest musician for the concert, and Ponti described him as "world class."
"I asked him to do Tchaikovsky's piano concerto in B flat No.1 – and it's iconic, this piece," Ponti said. "It's just huge, huge, in the piano repertoire and everyone will know this piece."
Ponti said it was a work that American pianist Van Cliburn performed at the first International Tchaikovsky Competition in Moscow decades ago, which Cliburn won.
"It challenges the pianist without limits in the orchestra, so it's a great way to start the performance, this season," he said.
Meanwhile, Ponti said the inclusion of Farrenc continued his new mission in recent seasons of promoting composers who he believes deserve to be played, but not heard enough. Farrenc, a "great composer," lived from 1804 to 1875 – an era which Ponti called a fruitful period for art and music.
"We're going to see a lot of diversity in my lineup this coming season, and in the future, for black composers, female songwriters, Asian songwriters, all kinds of things that need to be heard," he said. .
This season's concerts have a varied program, including Beethoven's Eighth Symphony and Georges Bizet's "Symphony in C" on October 16, as well as "Fantastic Symphony" by Hector Berlioz and "Don Juan" by Richard Strauss. November 20. The Christmas celebration is scheduled for Dec. 11 this year, and it brings listeners the "holiday pops," Ponti said.
Next year, the symphony is expected to host singer Joan Ellison for "Judy!" February 12. The concert will be an evening that will highlight the late and legendary Judy Garland, who would have turned 100 in June 2022.
Joan Ellison is a fabulous soprano who does this show exclusively, and she has the rights – not only to make the music, but she has the actual original orchestrations that Judy Garland actually performed and recorded both live and on her show. television, "Ponti mentioned.
"These are not arrangements. These are the real things that she actually performs, and she has the right to use them from the Judy Garland Foundation. "
The concert on March 12 is "Symphony No. 5" by Dmitry Shostakovich and "Symphony No. 8" by Franz Schubert, or what is called the "Unfinished" Symphony. The season will then end on April 9 with Mozart's "Requiem" as the finale, featuring the PSO choir, guest choirs and guest soloists.
"It's a really good Schubert track," Ponti said.
"The question is: is it really unfinished or did he finish it in two movements? Ah, ah! So that is the question. Of course, "Shostakovich 5" is just a war horse. Orchestras love to play that. I don't think we've done a Shostakovich here in Paducah, and the audience is going to love it.
Follow Kelly Farrell on Twitter, @ KellyAFarrell11
Follow Kelly Farrell on Twitter, @ KellyAFarrell11