San Francisco Opera Releases "In Song: Meigui Zhang" This Week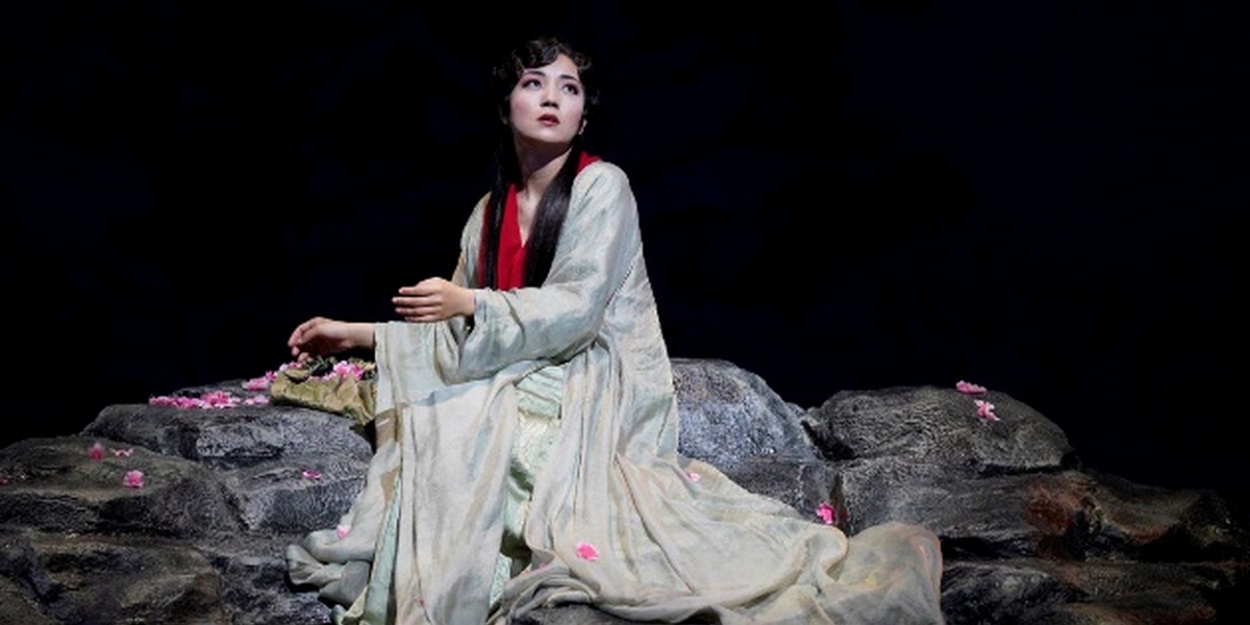 San Francisco Opera announces the release of In Song: Meigui Zhang, the latest installment in its series of free, Webby Award-winning In Song video portraits. The 19-minute film stars rising soprano Meigui Zhang, who makes her star debut with the Company tonight in Bright Sheng's Dream of the Red Chamber (June 14-July 3), reconnecting with her family in Chengdu, in China and sharing interpretations of "Villanelle" by Eva Dell'Acqua, "Das Veilchen" by Mozart ("La Violette") and the Kazakh folk song "A Lovely Rose".
In Song: Meigui Zhang is free and available now on sfopera.com/insong, Youtube, YouTube (Mandarin subtitles), Facebook and instagram.
For Zhang, pursuing her dream of singing opera required being in a world away from her homeland and loved ones in her native China. She grew up on the grounds of the Sichuan Conservatory of Music where her parents, a traditional folk singer and a classical tenor, taught and performed. In this new episode of In Song, filmed in New York and Chengdu, Zhang revisits the lyrics of Dell'Acqua's song "Villanelle", which she performs with pianist Ken Noda: / the flight of the traveler… / Since then, my dreamy soul accompanies him through the skies / Towards the mysterious land! Zhang and Noda are also featured in Mozart's "Das Veilchen" ("La Violette") in the episode.
In Song's first musical selection: Meigui Zhang captures the soprano performing the Kazakh folk song "A Lovely Rose", with virtuoso musician Zhou Yi playing the pipa, a traditional Chinese stringed instrument. This duo precedes their collaboration this month in Dream of the Red Chamber where Zhang portrays the beloved character of Dai Yu on the stage of the War Memorial Opera House and Yi joins the San Francisco Opera Orchestra as soloist qin (pronounced ch'in). Sheng's opera is based on the eponymous masterpiece of world literature, one of the four great Chinese classic novels. "My duty is to bring this character to life and also to bring the story of the novel to life," Zhang said, "I hope that listeners can be touched by my music…I think the music has the ability to connect all of us."
Although Zhang's journey as an opera singer began in Chengdu and continued in Shanghai, she also has a strong foundation in San Francisco, where she participated in the Merola Opera Program in 2018. From her performance in the Merola production of Stravinsky's The Rake's Progress, the San Francisco Chronicle said, "The real star of the evening … was soprano Meigui Zhang, who brought both tonal bloom and alert precision to the role by Anne Trulove. After Merola, Zhang was selected to join the Metropolitan Opera's Lindemann Young Artists Development Program and appeared with the Met in Verdi's Macbeth and as Barbarina in Mozart's Le Nozze di Figaro. This spring she reprized Barbarina at the Met and appeared as Thibault in that company's new production of Don Carlos, the French version of Verdi's great operatic masterpiece.
Zhang's other recent credits include Pamina in Die Zauberflöte at the Verbier Festival, concert appearances with the Sichuan Symphony Orchestra on tour throughout China, Beethoven's Ninth Symphony at the National Center for the Performing Arts in Beijing, and appearances with the Symphony Orchestras of Xi'an and Shenzhen.
San Francisco Opera's In Song is a series of intimate video portraits featuring notable artists who take us into their distinctive spheres through stories and songs ranging from classical to bluegrass, spirituals, Samoan and Egyptian songs and mariachi music. Launched in March 2021, the series invites us into the world of singers to see how they express themselves through deep connections to song. Episodes featuring sopranos Amina Edris and Meigui Zhang; mezzo-sopranos Jamie Barton (with banjo virtuoso Béla Fleck) and J'Nai Bridges; and tenors Arturo Chacón-Cruz and Pene Pati are available on sfopera.com/insong.
The series, produced in collaboration with Lumahai Productions, was recently honored at the 2022 Webby Awards as the winner of the Webby People's Voice Award for Best Music Video Series and Channel.
Alongside San Francisco Opera's multidisciplinary Instigators program and other new digital content initiatives such as the North Stage Door podcast and Atrium Sessions, In Song is made possible, in part, through the Creative Edge Fund, with the major support from Carol and Dixon Doll, Peter Fenton and Kate Greer, and Bob Ellis.