'The Magic Flute' Children's Book Adapts Mozart's Opera for Enchanting, Interactive Reading | Arts & Culture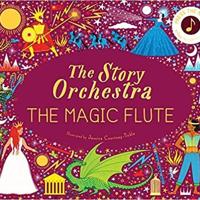 "Once upon a time, the world was divided into two lands. One land was ruled by the sun and the other by the moon… This was the way of the world, until a curious prince got lost in the mountains that separated these two kingdoms.
So begins "The Magic Flute", by writer Katy Flint and illustrator Jessica Courtney-Tickle, based on the opera by Wolfgang Amadeus Mozart. This tale of dark and light, love, logic and wisdom has endured for generations, and Ready Readers recommend this release from a team that specializes in scaling masterpieces for young people through their Story Orchestra series.
Flint is an expert at adapting for children, cutting out lesser characters and plot lines while retaining the thrilling story of Prince Tamino and the obstacles that befall him on a quest given to him by the Queen of the Night. Tamino must save his daughter, Princess Pamina, held captive by the Sun King. Along the journey, Tamino encounters mystical creatures, including a dragon, forest fairies, and the bird-man Papageno, who bestow upon him enchanted items—including the titular magic flute—allowing him to fulfill the mission of the queen and bring peace to the earth.
Courtney-Tickle's multimedia illustrations capture the spirit of the story, using block printing techniques, along with watercolor and collage, to create deeply engaging double-page spreads. A magical mascot found on each page connects events across the pages.
Flint and Courtney-Tickles' book also features an audio aspect. Sound buttons embedded in the illustrations play excerpts from the orchestral music and accompanying operatic passages. Parents will be able to take advantage of Mozart's short biography, a glossary of musical terms and an audio game at the end of the page. End this introduction to opera by discovering "The Magic Flute" in person, this month at the Opéra Théâtre Saint Louis.
Ready Readers celebrates 25 years of bringing stories to life for the most vulnerable children in our community. Visit our website (readyreaders.org) to learn how to bring the magic and power of books to children in the metropolitan area.