The Makropulos affair, review of the Welsh National Opera – complexity performed brilliantly on stage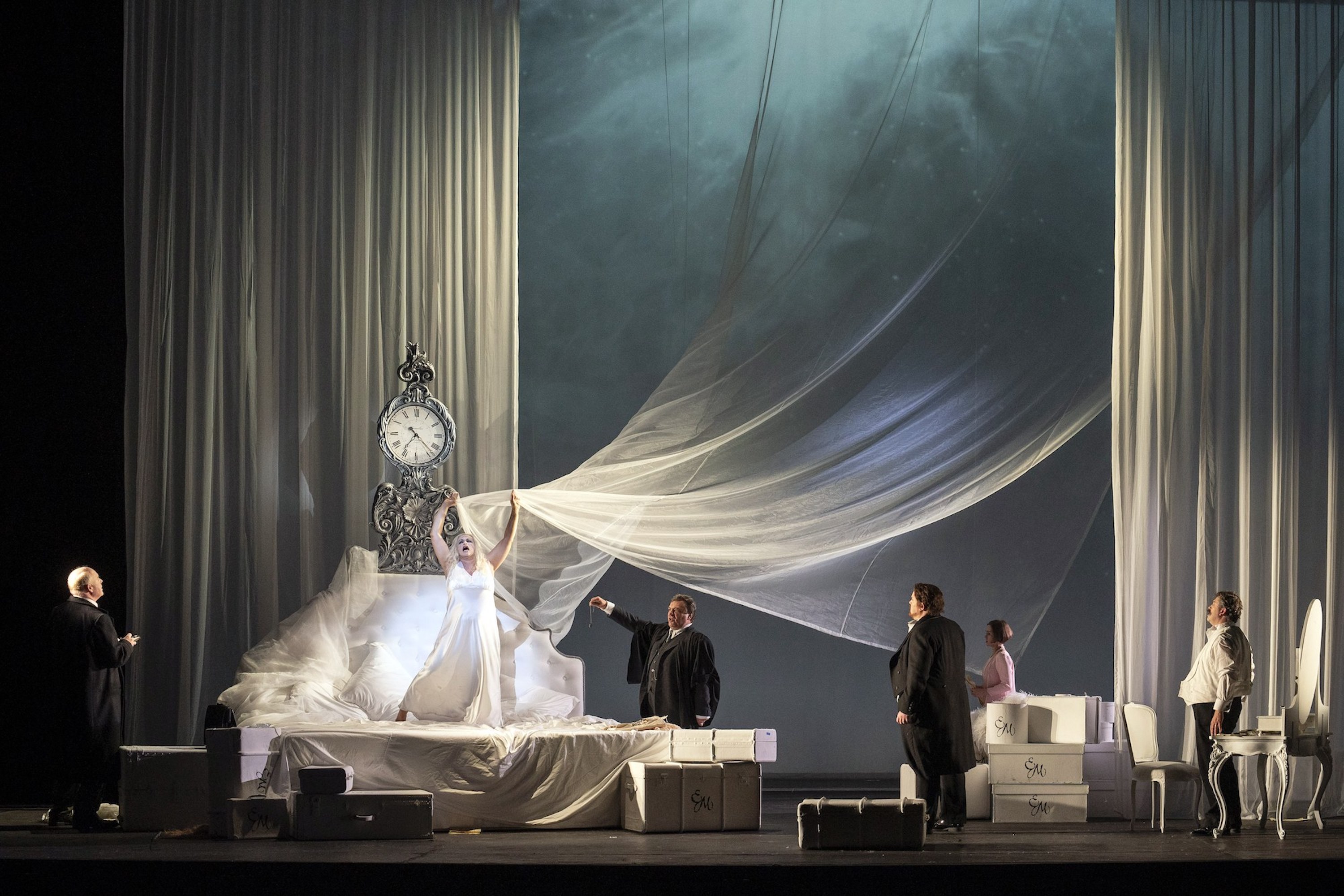 Or is it simply a well-made piece disrupted by the theater of the absurd and transformed for good measure into a tragic musical drama?
The truth is that it is all of these things and more, a work of astonishing complexity both dramatically and, above all, musically. And the best thing I can say about Olivia Fuchs' new production is that it considers all of these issues, all of these levels, and in the process convinces me, for my part, that this is Janáček's most powerful and innovative scene, if not the greatest. work.
The complexity begins with the prelude, conducted here with terrifying ferocity by Tomáš Hanus: an image of quarreling lawyers and helpless passions, always in conflict. As the curtain rises on attorney Kolenaty's desk, we fall into a world of mindless rationality, epitomized by Kolenaty's verbose explanations of a century-old dispute over an inheritance, in which 300-year-old Emilia Marty (shown belowdistant combat) interferes with his seemingly impossible and fraudulent claims to intimate knowledge of the original events and documents of the case.
It barely feels like an operatic subject: far too many words and narrative details. Its closest equivalent might be the wordy ramblings of Baron Ochs in The Rider of the Rose, and there is no doubt that Janáček had this music somewhere in his head when he was composing his own first act in 1924. But there are not many Strausses, or anything German, in the score by Janáček differently. Where German music up to Schoenberg is harmonious, coherent, governed by strict rules of phraseology and vocal-orchestral balance, Janáček is all about collisions, broken phrases, rhythmic and harmonic disturbances; his orchestra often sounds as if it had been tossed and turned, the lower registers masquerading as the upper, and the lyricism made awkward by the choice of instruments.
It's Janáček's voice, and it works in its own way. At the end of Makropoulos, where Marty finally lets go of his age-old frigidity, his emptiness suddenly erupts into a passionate soul that precisely contradicts his assertion that his soul is dead; music, after all, can't be soulless (at least good music can't), and this closing monologue, with its wonderfully expressive warmth complicated by deliberately crude orchestration, is one of the great original moments of all opera. After all, Marty is a horrible, unsympathetic figure: but we mourn the humanity she lost.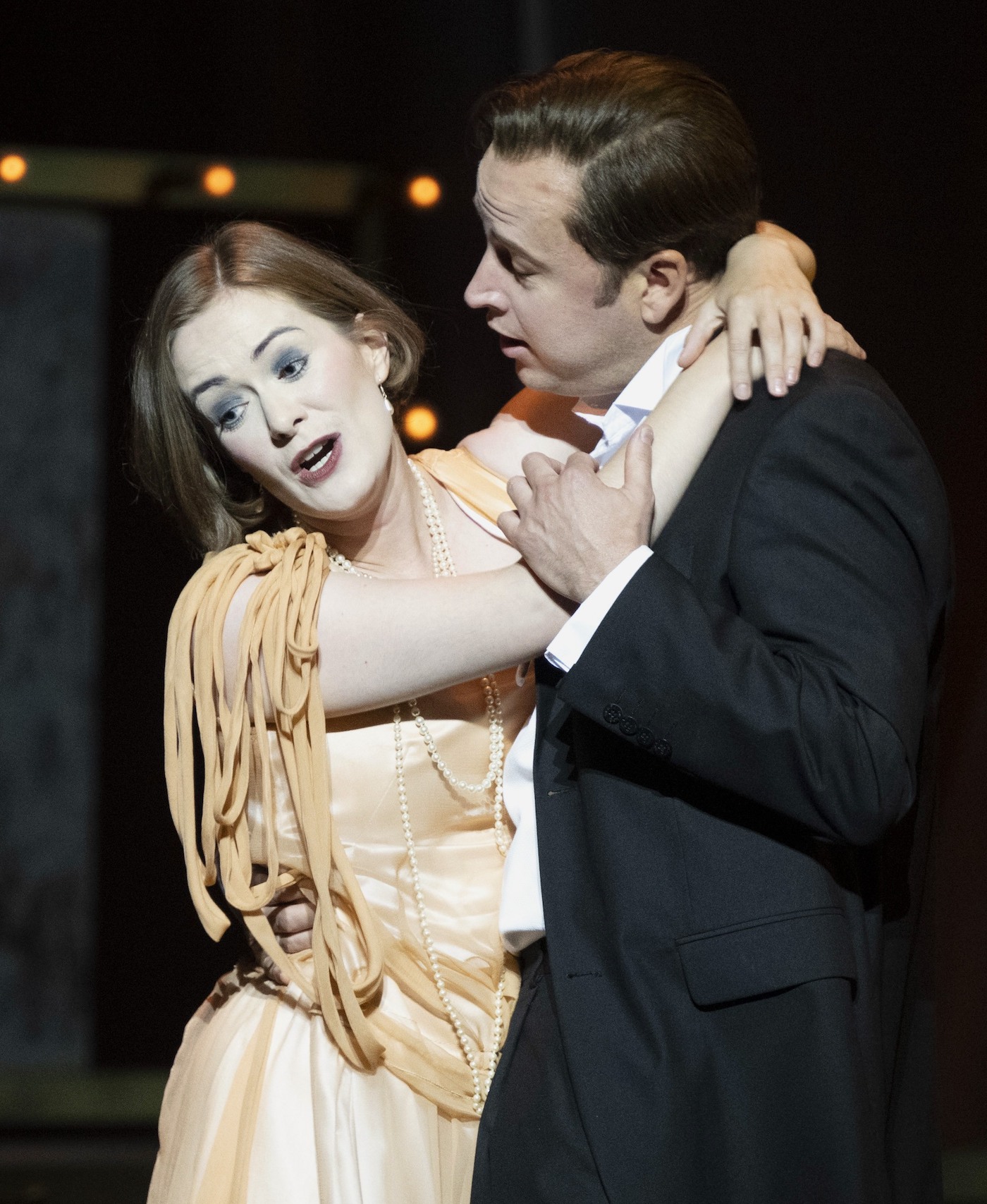 Ángeles Biancas Gulin's performance here is beyond praise, superbly mastered, deeply moving. Previously, she interpreted the embittered beautiful diva to perfection, cold and insensitive, visibly decaying from the start, but vocally as imposing as poor, starstruck Krista describes her. Harriet Eyeley (shown at right starring Alexander Sprague) is excellent in this small but pivotal role, and in fact it's generally a cast with no weak link. Nicky Spence is a burly but vulnerable Gregor, the plaintiff loser, reduced by scarcity to believing Marty's incredible claims and falling in love with her on top of that.
Gustáv Beláček is a suitably dry and precise Kolenaty (by the way, the only Czech singer in this production in the Czech language); David Stout is a well-watched Prus, a great tragic, the unwitting cause of his son Janek's suicide, a failed lover and ultimately (I suppose) loser in the deal – though all of that is forgotten in the emotional. Götterdammerung of the final scene. Alan Oke does Marty's demented ex-lover Hauk in a touching way, without exaggerating the craziness, though admittedly Gulin responds halfway, as if he's in no way certain of it. identity of this curious. returning could be. Mark Le Brocq gets the ball rolling as notary Vitek, an admirer of Danton, and also gets the unusual task of explaining the plot to the audience between the first two acts. It does it well and in a fun way, but the thought inevitably arises: why not just play the opera itself in English, like here in the past?
Whatever, Makropoulos is not a work that suggests the craziest flights of staging redesign: its context is too factual, and Fuchs rightly gives us a real law firm (designer Nicola Turner), a real set of theater and a real (or slightly unseemly) hotel room, while lifting those realities with vague back-projected images of a dark past (by Sam Sharples), like the shadowy figures Marty begins to see in the present as his own presence recedes. Robbie Butler's subtle lighting is an important factor here. Fuchs also manages to strike the balance between the prosaic and the fantastic, so that the scenes with Hauk and the unlikely love affairs emerge from the main plot almost like entertainment in a baroque opera. It is an exciting business in all its aspects.
Not to mention the orchestral playing under Hanus, which is superb as usual in Janáček at WNO. It must be difficult for an orchestra to adapt its sound to Janáček's idiosyncratic ear, and who knows, maybe it wasn't at all what the composer thought he was writing. But genius can be instinctive, never, surely, accidental. And it is unquestionably genius music.