The National Symphony Orchestra will play a Mícheál Ó Súilleabháin Memorial Concert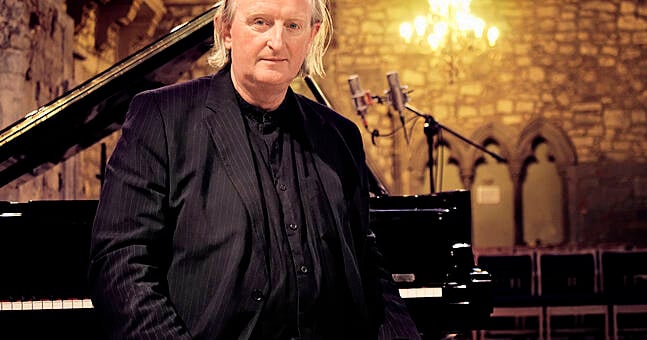 Lumen will celebrate the life and music of the late Mícheál Ó Súilleabháin, Chair of Music and Founding Director of the Irish World Academy of Music and Dance at the University of Limerick.
The National Symphony Orchestra, in collaboration with the family of the late Mícheál Ó Suilleabháin and in association with the University of Limerick, will pay tribute to Mícheál's life and music with Lumen: a celebration of light.
This will be the first performance of the Irish composer's work since his death in 2018. Lumen will take place on September 2 at the National Concert Hall in Dublin and on September 3 at the University Concert Hall in Limerick.
The third and last concert of a trilogy imagined by Mícheál with the National Symphony Orchestra (The glass eel shines2017; between the worlds2018), Lumen will present some of Mícheál's most important and popular orchestral works under the direction of David Brophy.
Lumen will be performed by a host of stunning musicians, including singers sean-nós Iarla Ó Lionáird, Lillis Ó Laoire and Síle Denvir; flautist Mike McGoldrick; saxophonist Kenneth Edge; traditional percussionist Mel Mercier; uilleann bagpiper Mark Redmond; fiddlers Liz Doherty, Zoë Conway, Aidan O'Donnell and Katie Boyle and cellist Neil Martin.
Mícheál's frequent collaborator in music and Chairman of Performing Arts at the Irish World Academy, Mel Mercier, will lead a student ensemble from UL and UCC, honoring Mícheál's legacy at both universities . Ensemble Eklego includes Karl Nesbitt on flute, Conor Arkins and Claire Egan on violins, Paul Clesham on accordion and Niamh O'Brien on harp.
Helen Phelan, wife of Mícheál and professor of artistic practice at UL, discussed Lumen saying, "The incredible generosity of the National Symphony Orchestra and special guests, many of whom were longtime friends and collaborators of Mícheál, in bringing these concerts to fruition has moved us as a family very much.
"To present this, the first full concert of Mícheál's music since his passing, both in the orchestra's home at the National Concert Hall and in Mícheál's academic home on the banks of the Shannon as part of the fiftieth anniversary from the University of Limerick is an extraordinary gift."
Lumen will include orchestral pieces featuring singer Iarla Ó Lionáird ("Port na bPúcaí" and "An Buachaill Caol Dubh") as well as "Templum" and the passionate love song "Bean Dubh an Ghleanna", both for soprano sax and orchestra. 'Termōn' will be presented for pipes and orchestra, and 'Francesco Walks' for the quartet of violins, pipes, harpsichord and string orchestra. "Oileán/Island" will feature flautist Mike McGoldrick.
'Fill Arís', Mícheál's orchestral sean-nós arrangements of poetry by Seán Ó Riordáin which received its world premiere at Mícheál's final performance with the orchestra in 2018, will be a highlight of Lumen.
Anthony Long, General Manager, National Symphony Orchestra and Chorus, said: "We always intended to present three concerts in collaboration with Mícheál. With the passing of Mícheál, Lumen has now taken on another dimension and direction.
"It is our tribute to him and we are delighted that it is coming to fruition with the involvement of Mícheál's family and as part of UL50, the 50th anniversary celebrations of the University of Limerick."
Paying tribute to Mícheál's influence as an academic, composer and performing musician based at UL's Irish World Academy of Music and Dance, University of Limerick President Professor Kerstin Mey spoke of the concert, describing the late Mícheál as the "driving force" behind music in UL.
She said: "On the 50th anniversary of the University of Limerick, the founding director of the Irish World Academy of Music and Dance is to be remembered with a performance by the National Symphony Orchestra and guest soloists .
Mícheál was the driving force behind music at UL, influencing generations of students not only with his deep understanding of Irish music and breadth of knowledge, but also with his generosity and passionate belief in universal power. of music and the arts to unite. This concert is truly a celebration of that belief with so many amazing musicians on stage to celebrate his legacy."
Tickets for the Limerick show are available hereand tickets for the Dublin show can be found here.
Lumen: The Music of Mícheál Ó Súilleabháin

A concert in honor of Mícheál Ó Súilleabháin during @ULfiftieth anniversary.

David Brophy and some of Ireland's finest traditional musicians and dancers join forces on September 3.

Book from €25 here https://t.co/y3lF9sJ1Pe pic.twitter.com/9xp1RK57je

— University Concert Hall (@UCHLimerick) June 7, 2022
Program
'Templum' for soprano sax and orchestra
"Bean Dubh an Ghleanna" for soprano sax and orchestra
'An Buachail Caol Dubh' for singer and orchestra sean-nós
Eklego: Sources for bodhrán, flute, violins, accordion and harp
'Oileán/Island' for traditional flute and orchestra
'Termōn' for pipes and orchestra
'Port na bPúcaí' for singer and orchestra sean-nós
"Francesco Walks" for quartet of violins, bagpipes, harpsichord and string orchestra
Athdheargú: Alarm clock for violin and cello
'Fill Arís' for singers, bagpipes and sean-nós orchestra