Utah high school group and orchestra students arrive in Hawaii to perform at Pearl Harbor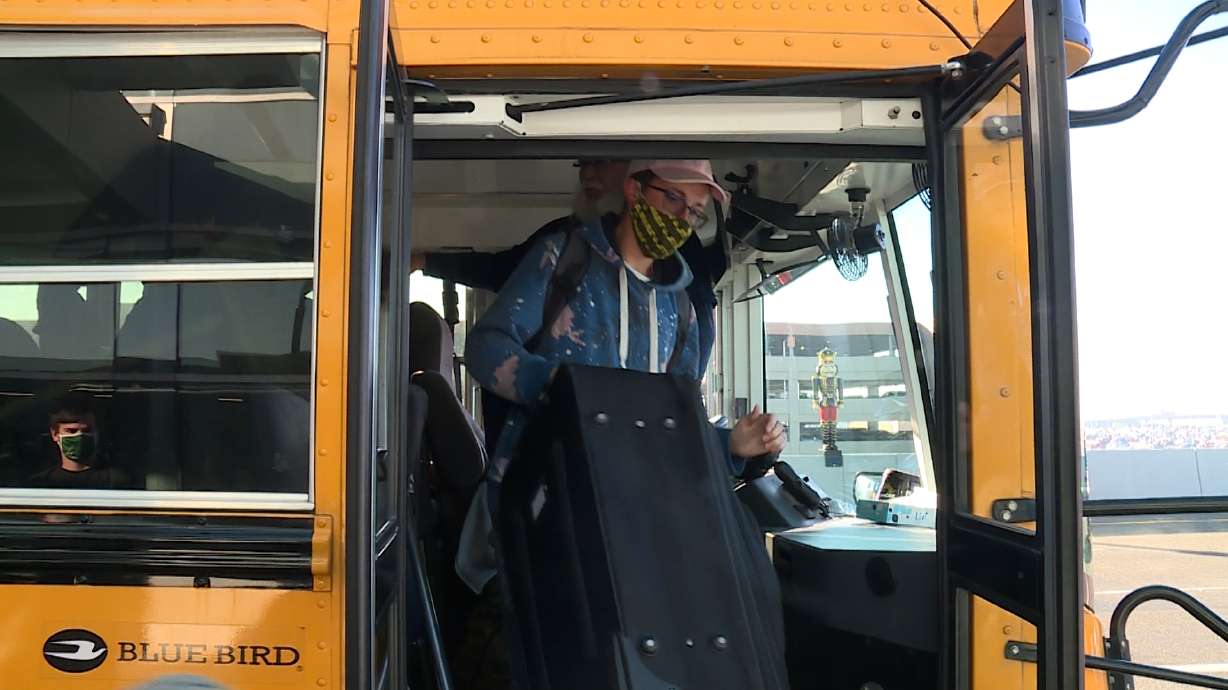 Students of the Uintah High School band and orchestra travel to Hawaii to perform Thursday for the 80th anniversary of Pearl Harbor. (Mark Wetzel, KSL-TV)
Estimated reading time: 2-3 minutes
SALT LAKE CITY – Even though the theft miracle happens every day, you never forget your first time.
So when the students from Uintah High School in Vernal arrived at Salt Lake City International Airport on Thursday morning, you couldn't fault some of them for maybe saying a little prayer asking for this miracle to continue.
"I used to be afraid of heights," a student told a classmate.
"I have never been on an airplane or an airport," said another student.
"It's a little scary but exciting," said one student when asked.
Of course, when you go on a trip, those nerves are worth it.
"We're going to Honolulu, Hawaii, and we're going to play Pearl Harbor for the 80th memorial," one of the students said.
Yes, Pearl Harbor.
And the Uintah High School band and orchestra were invited to perform at the parade and memorial ceremony.
"We're all so excited to be going," said Lorenzo Crane, who plays the tenor saxophone. "We have been working for almost three years on this."
It took the students about the same time to raise the necessary funds.
"There has been a lot of fundraising. We make the popular, world famous chocolate bars," Crane said with a laugh. "I don't ever want to sell another chocolate bar again."
Earning $ 2,400 for each student is a lot of bars.
"Oh, I'm so tired of chocolate. I never thought I would say that. I'm a big guy, you know? I love chocolate," said Brian Gibson.
Gibson is the group and orchestra principal at Uintah High School and says that although there was a lot of fundraising, the students worked hard to raise money to go.
He took on another band five years ago, but this time it's very different.
"Hawaii still has pretty strict COVID rules in place, so they need to have a negative test or vaccine card," Gibson said.
Even still, performing at Pearl Harbor to honor those who have died and remember a day that should never be forgotten makes the flight to there worth it.
"It's kind of an honor to have the opportunity to do this," said one student.
Even for those who were a little nervous about the theft.
"I'm very excited, actually, to be able to represent Utah and go to Hawaii, let's be honest," Crane said with a smile.
Sometimes, to learn history, you have to leave the classroom.
The Utah Bagpipe Group is also in Hawaii to perform as well as the American Heritage High School dance team.
They also arrived late Thursday afternoon with the intention of performing on Friday.
×
Related stories
More stories that might interest you