What to Expect from a Shen Yun Symphony Orchestra Concert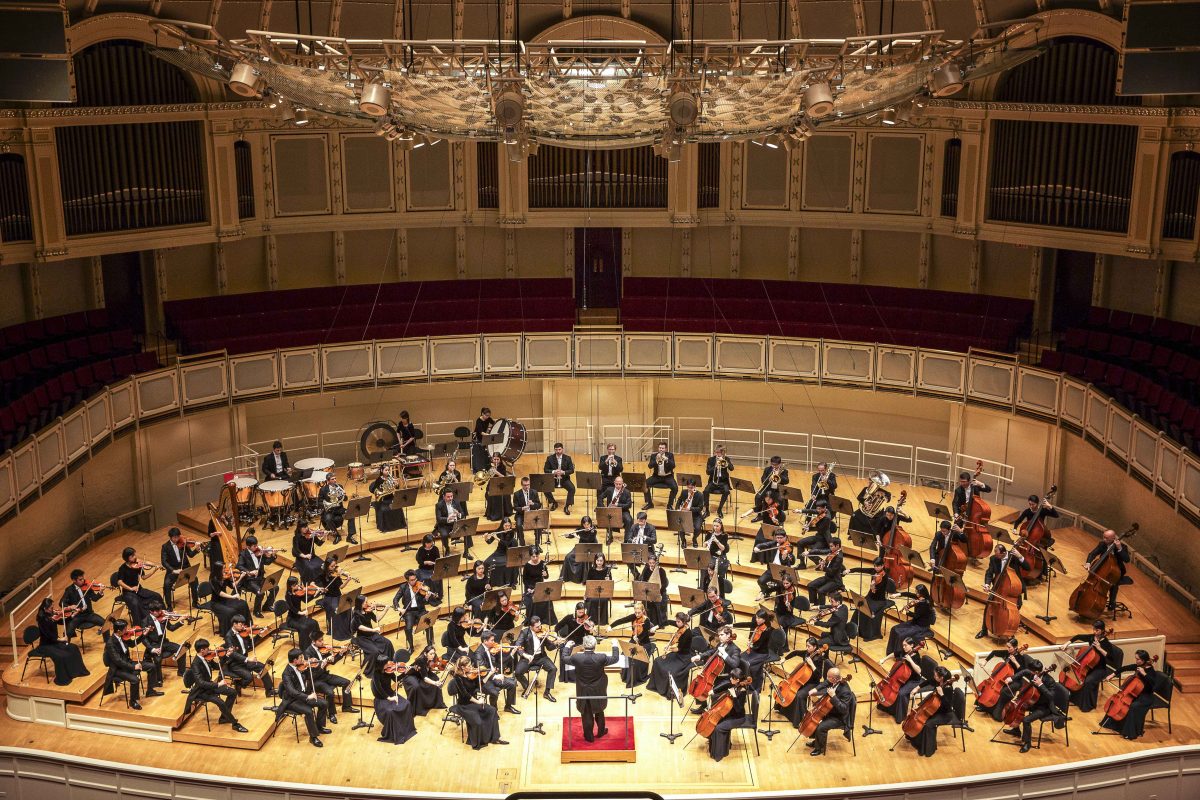 What do Wagner's 'Imperial March', Sarasate's 'Fantasia de Carmen' and the erhu folk tunes of northeast China have in common?
Not much, at first glance. But Shen Yun Symphony Orchestra's ability to go from one stylistically perfect performance to the next in minutes is an exercise in proving that, truly, music is a universal language.
The orchestra is famous for its East-West nature. It sounds like a classic symphony orchestra, but from the first gong you realize that it sounds somehow Chinese—even if you've never really heard Chinese music before.
The artists say they owe this sound to their roots: Shen Yun Performing Arts, the classical Chinese dance company that the orchestra usually accompanies, is on a mission to revive the authentic, 5,000 years of traditional Chinese culture.
Thus, the composers and musicians of Shen Yun Symphony Orchestra (SYSO) honor the origins of the Chinese instruments integrated into the ensemble. The 4,000-year-old erhu is nestled in the orchestra right next to the violins, an instrument perfected in Italy only around 400 years ago. The two-string erhu is meant to mimic the human vocal cords, and in the right hands it can, evoking some of the most soulful parts of performance.. When composers write for her, the music is arranged to let the erhu carry the melody.
There is also the pipa, which was once an instrument of the imperial court. Those who frequent early music concerts will notice its resemblance to other lutes they have heard, but the technique used to pluck the pipa's four strings evokes a rather different sound.
Then, along the edge of the set, you might notice that the rhythm section doesn't sound quite like what you're used to. The orchestra uses Chinese court drums, different cymbals and wooden blocks. blocks and other sacred percussion instruments originating from Buddhist temples.
Chinese instruments have a different way of categorizing tonality than western instruments. Instead of basses, wind instruments and strings, you have the "metallic sound" of the 16-bell bianzhong, and the "silky sound" of silk-string zithers, and so on. You might assume that these Shen Yun musicians are specialists in traditional Chinese music—and they are, but that doesn't mean they don't make full use of the western classical tradition as well.
This year's program includes Wagner's "Imperial March" ("Kaisermarsch")Sarasate's "Carmen Fantasy" and Tchaikovsky's waltz from "Sleeping Beauty" alongside the orchestra's main repertoire of original works.
A surprising mix, perhaps, but the orchestra often does it: they program a grand march (sometimes American, sometimes a coronation march), plus an iconic melody that almost everyone will recognize. (You could be humming "Sleeping Beauty" right now.) And then it includes something to show off one of the orchestra's virtuosos—sometimes a horn, sometimes a bel canto soloist, sometimes the harrowing erhu, and this year, violinist Fiona Zheng, who has in the past played Sarasate to enthusiastic audiences, to standing ovations in concert.
The symphony orchestra proved to be an agile and talented group, and the fast programs provide a rare opportunity to sample the breadth of Shen Yun's unique music.
The tours of the orchestra are short. After performances in Taiwan and South Korea in September and early October, the North American concerts will begin in Toronto at Roy Thomson Hall on October 5. The orchestra will then make brief stops in New York; North Bethesda, Maryland; Boston; Washington; and Chicago before joining Shen Yun dance companies to tour the world.
It's a message that really hits home: no matter what genre, language, where you're from, classical music can reach you.