Youth Orchestra concert, Holmes comeback and more…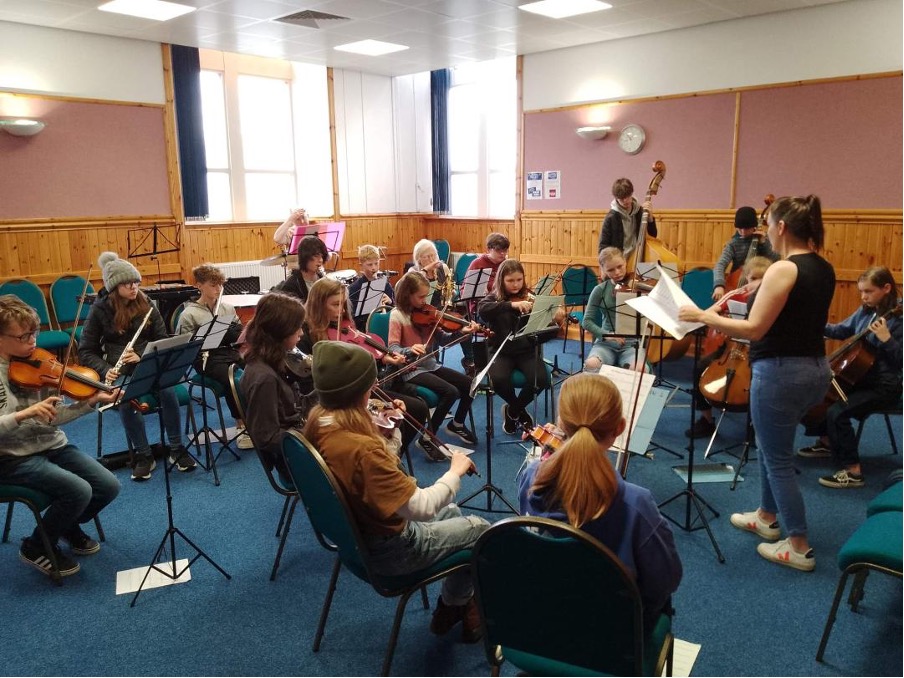 The SHETLAND Youth Orchestra and young musicians from Shetland will perform a classical music concert at Lerwick Town Hall next weekend.
The orchestra is made up of children from all over Shetland who meet every Saturday morning to rehearse.
The concert, which will take place on June 25 at 7 p.m., will include the symphonic work Scheherazade by Rimsky Korsakov, Farandole by Bizet, Prayer for Ukraine and themes by James Bond and Wallace and Gromit.
Alongside the Youth Orchestra, the AHS string group will perform as well as talented young soloists on violin and trumpet, a trio of clarinets and an original composition by Will Cheverton.
Organizers said the Shetland Youth Orchestra have worked tirelessly during the Covid pandemic and are looking forward to performing in front of an audience.
---
SCOTTISH musician Adam Holmes is set to return to Shetland next week for some solo shows.
A concert at The Dowry in Lerwick on June 24 is sold out, but tickets are still available for a concert at Scalloway Hall the following day.
Support on both nights will come from Fraser Jamieson.
---
SHETLAND Christian Youth Camp (SCYC) is back after a two-year break in July.
Three fun day camps are scheduled for July 13, 14 and 15 at the SCYC building in Sumburgh.
The first day is for ages eight to nine, the second for ages 10 and 11, and the third for ages 12 to 14.
Planned activities include outdoor games, bouncy castles, go-karting, Bible stories, crafts and quizzes.
Each day will run from 10am to 7pm and campers will be provided with lunch, tea and snacks. Transport to and from the camp can be arranged. Application forms are available online.
The group has been offering free summer camps for children for 25 years, and it is hoped that residential stays will return in 2023.
---
Supporters and friends of the SHETLAND Island Games are hosting a Seafood Buffet in Lerwick this weekend in aid of their Relay For Life team.
The buffet, by chef Akshay Borges, will take place at the Sound Hall on Sunday, June 19 at 5:00 p.m.
The group held a similar buffet in 2019, which sold out, raising over £3,000 for cancer research.
All ingredients were donated by local businesses and individuals.
There are still a few tickets available from Olive on 693912 or Sheila on 693782.
Become a supporter of Shetland News
Shetland News asks its many readers to consider starting to pay for their dose of the latest local news delivered directly to their PC, tablet or mobile phone.
Journalism has a price and because that price is not being paid in today's rapidly changing world of media, most publishers – national and local – are struggling financially despite very healthy audience figures.
Most online publishers have started charging for access to their websites, others have gone a different route. Shetland News currently has more than 540 supporters all of which make small voluntary financial contributions. All funds are used to cover our costs and to further improve the service.
Your contribution will ensure Shetland News box: –
Bring you the headlines as they happen;
Stay editorially independent;
Giving a voice to the community;
Increase site traffic further;
Research and post more in-depth news, including more Shetland Lives features.
If you enjoy what we do and value unbiased local journalism, then become a supporter of Shetland News by making either a one-time payment or a monthly subscription.
Support us from just £3 a month – signing up only takes a minute. Thanks.
Support Shetland News
Already support? Login to hide this message.